Interview with Ringana Founder Andreas Wilfinger
August 22, 2015
By Team Business For Home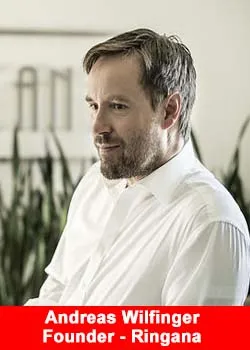 Austrian cosmetics direct selling company Ringana's founder Andreas Wilfinger was interviewed by German newspaper Kleine Zeitung where he talks about his roots, Facebook, aging and reveals why he has hundreds of creams in his bathroom.
Andreas Winfinger (46) founded Ringana in 1993 as a company that develops, produces and distributes nutritional supplements and fresh organic cosmetics made from natural plant ingredients, and has already worked its way into a leading market position in Austria and Germany. The company's sales have climbed steadily in the last five years: 8.2 million euros (2010), 11.3 million euros (2011), 15.5 million euros (2012), 19 million euros (2013) and 26 million euros (2014). In 2008 Ringana moved into Schloss Hartberg, and in 2013 production moved into a 2700 square metres factory space established at a cost of three million euros.
The multichannel distribution strategy of Ringana combines direct selling with distance selling, direct marketing and e-commerce elements.
You are considered as a person who is deeply rooted in the region. What makes Hartberg so special?
I was born here. This area is beautiful, the quality of life is high and there are nice people here. It's a great contrast to big cities, from where I always return home happy.
What does the term home mean to you?
The feeling of being well cared for.
From Hartberg you send your cosmetic products all over the world. Is it more difficult to be recognized at home than abroad?
In the beginning I had a feeling that I was being ridiculed for being in Cosmetics in Hartberg. Meanwhile, acceptance has increased regionally and has grown strong nationwide. Maybe even in the town of Hartberg – which was not always so (laughs).
You make your money with health and anti-aging. Are you afraid of getting older?
No. At least not more than other people. It all depends on what you make of your years.
Does our society evaluate signs of aging as a flaw?
No, I do not think so. One should see people for how they have experienced their years. There are careworn faces, young and happy elderly faces. We should not measure our life expectancy, but our healthy life expectancy as a society. This is the more important value for me. Of course, Ringana has the right products for this purpose.
How many creams do you have in your bathroom?
There are hundreds! But we do not sell all these products. Our laboratory creates many of these and I test and try to select the most exciting products. Mostly there is a huge mess in the bathroom. The variety of creams I have with me fo no result from vanity, but are for my profession.
Ringana is creating new sales records every year. Is there any limit to your growth?
Our potential for further growth abroad is theoretically huge. We see no ceiling.
Your company promotes sustainability, at the same time you want to grow without limit. Do these go together?
Growth is important. It gives us leeway to develop an improved and wider range of products – this costs money, but it pays for itself though perhaps not immediately. I believe in growth. I'm an economic liberal.
The communication in social networks has shifted in many areas. Do you use Facebook?
As a company, we need to be represented there. I post in my personal capacity also, but only about the company.
You mean we won't find photos by Andreas Wilfinger of freshly cooked dinner on the internet?
Definitely not.
Are you employees allowed the use of Facebook at work?
Yes, we are very liberal that way. I am not a fan of putting computer locks. When employees feel good, they are most productive. And many share information and news about the company with pride.
You sell your products over the Internet, at the same time you have a presence in vibrant inner cities. What do you think of online shopping?
The trend is growing in this direction. But the steady trade also has its strengths. The solution is probably a multi-channel strategy.