Isagenix Makes Inc 5000's List 9th Year In A Row
August 17, 2015
By Tina Williams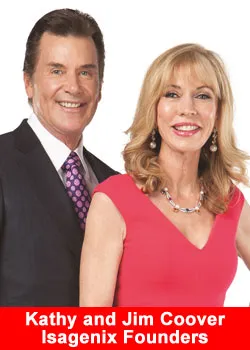 On the heels of this year's Stevie Awards, Isagenix is thrilled to announce it has earned a spot on the prestigious Inc. 5000 list for the ninth consecutive year—propelling its three-year growth by 177 percent and receiving the rank of No. 2,210.
In addition to this distinguished honor, Isagenix was also acknowledged by Inc. magazine as a Five-Time Inc. 5000 Honoree for being on the list for five consecutive years or more.
For the past 34 years, this highly regarded publication has been recognizing the fastest-growing private companies in America for their remarkable achievements.
"We owe our success to our leaders in the field and our Associates, all 550,000 of them, who use our products daily," says Jim Coover, Isagenix Co-Founder and President, "and our more than 800 global employees who have put our vision into action."
As an honoree, Isagenix joins the nation's brightest and most successful business minds including Fitbit, Orangetheory Fitness, and Nerium International.
"We're an organization that is aligned to a common goal and always thinking several years ahead," shares Kevin Adams, Isagenix Chief Executive Officer. "It sounds easy, but it requires strategic thinking, excellent communication, and the willingness to invest in what we believe in."
Over the last year, Isagenix also won two DSA Ethos Awards and nine American Business Awards, including thee Gold Stevie Awards. Check out our complete list of awards.
Established in 2002, Isagenix offers Solutions to Transform Lives™ and provides systems for weight loss, energy, performance, healthy aging, and wealth creation. To date, the company has exceeded $3 billion in cumulative sales through an independent network of Associates in the U.S., Canada, Puerto Rico, Hong Kong, Australia, New Zealand, Taiwan, Mexico, Singapore, Malaysia, Colombia, Vietnam, and Indonesia. As a result, Isagenix has created more than 160 Isagenix Millionaires, earning more than a million dollars cumulatively since joining Isagenix, plus thousands of six-figure income earners, and led thousands more to earn a residual income by distributing its products.
Complete results of the Inc. 5000 list, including company profiles and an interactive database, can be found at Inc.com/Inc5000.
– See more at: https://isafyi.com/isagenix-makes-inc-5000-list-ninth-year-row/#sthash.YNqR4a6x.dpuf