Isagenix Raises Over $500,000 For Make-A-Wish
August 21, 2015
By Tina Williams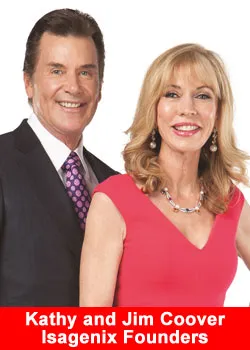 Isagenix International, a global health and wellness company, ended its annual Celebration 2015 Breakthrough event in San Diego today by raising more than $565,000 for Make-A-Wish® through fundraising and generous Associate and corporate pledges.
Additionally, Isagenix and Make-A-Wish surprised wish kid Tanika, a 10-year-old battling leukemia, with an on-stage wish reveal. This fall, her wish to have a backyard makeover will be granted!
We are dedicated to playing a significant role in impacting the overall health and the wellbeing of others through our support of children's charities, said Kathy Coover, Isagenix co-founder and executive vice president. Our team loves to see the happiness reflected in the faces of the children and families we help, especially when they realize that we have helped to make their one true wish a reality.
During the past 11 years, Isagenix has raised more than $6.2 million for children's charities. This includes more than $3 million for Make-A-Wish since 2012, which has helped to grant more than 425 wishes to deserving children. More than 550,000 Isagenix associates and staff have the opportunity to contribute to Make-A-Wish on an ongoing basis.
Isagenix Associates and employees are committed to world health by impacting and inspiring the lives of others, said Kevin Adams, Isagenix CEO. Our support of Make-A-Wish allows us to continue to make a difference in the lives of children around the world.
About Isagenix International:
Isagenix is an innovative health and wellness company with 13-plus years of proven success providing people with personalized solutions for weight loss, energy and performance, healthy aging and wealth creation. Founded in 2002 and privately owned, the company helps transform lives by developing and marketing these solutions through independent Associates. With more than $500 million in global annual revenue, Isagenix currently operates in the U.S., Canada, Puerto Rico, Hong Kong, Australia, New Zealand, Taiwan, Mexico, Singapore, Malaysia and Colombia.
About Make-A-Wish International:
Make-A-Wish grants the wishes of children with life-threatening medical conditions to enrich the human experience with hope, strength and joy. Based in Phoenix, Arizona, Make-A-Wish is the world's largest wish-granting organization, serving children in nearly 50 countries on five continents. With the help of generous donors and more than 32,000 volunteers worldwide, Make-A-Wish grants a wish somewhere in the world every 21 minutes on average. Since 1980, it has granted more than 350,000 wishes to children around the world