Jamberry Continues Rapid Growth, Expands Into Australia And New Zealand
August 12, 2015
By Tina Williams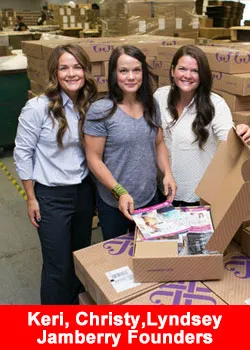 Jamberry has become a household name in less than five years for their easy-to-apply long-lasting nail wraps, salon-quality nail lacquer and hand care treatments sold through a network of over 35,000 Independent Consultants throughout the US, Canada and Puerto Rico. Jamberry is now extending their successful business model to Australia and New Zealand.
On 1 October, Australian and New Zealand residents will be able to sign up to become Jamberry Independent Consultants and order product online.
Jamberry Independent Consultants grow their Jamberry businesses by selling through in-person manicure parties and virtual parties on Facebook. These parties are fun and engaging, allowing women to learn about and sample Jamberry's products. Jamberry's easy and empowering business model enhances women's lives, from those who simply aspire to earn supplemental income to entrepreneurial self-starters who have built large Jamberry businesses.
Three sisters, Keri Evans, Christy Hepworth and Lyndsey Ekstrom, started Jamberry in 2010 with a line of vinyl-based nail wraps that are easy to apply at home with a simple heat-and-pressure technique. Jamberry nail wraps last up to 2 weeks on fingers and 4 weeks on toes without chipping or smudging (application videos and tips available at jamberrynails.com). The sisters launched Jamberry for women just like themselves who want perfectly manicured nails while running from the gym to school drop offs to work and back again.
It had to be doable for people that don't necessarily do girly stuff, explains Lyndsey, the youngest of the Jamberry sisters. The nail wraps had to be easy to apply, last a long time and of course be stylish and personal in a way that would speak to a woman's personal tastes.
Jamberry releases two new collections per year (in March and September) with over 300 nail wrap designs and over 25 lacquer, basecoat and topcoat options. Limited Edition Sisters' Style Exclusives are unveiled each month, and themed capsule collections are released throughout the year with special holiday and other trend-driven designs.
There is also a complete line of Jamberry Juniors for small fingers and toes, with corresponding Mommy & Me designs. Each sheet of nail wraps yield 2-3 manicures or pedicures and retail for AU$22 and NZ$24.