Ken Brailsford – Founder Zija International Interview
August 11, 2015
By Team Business For Home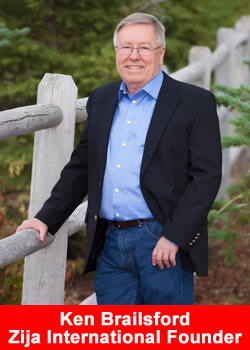 Ken Brailsford was the Co-Founder of Nature's Sunshine Products and Enrich International, and is currently the Founder and CEO of Zija International. He is an icon of business success and wealth, an Entrepreneur of the Year, and the Father of Herbal Encapsulation. Zija International develops natural health, wellness, nutrition and fitness products. The company operates in more than 50 countries worldwide.
Brailsford is considered to be the Grand Daddy in the Home Business Industry, and Founder and President of three mega success stories. He has over 35 years in the Direct Sales industry and has generated billions of dollars in sales. Ken Brailsford was born in Niagara Falls, New York. He grew up in Utah, earned an undergraduate degree in economics from Brigham Young University in 1969, and served two years in the U.S. Army before helping start Nature's Sunshine Products. He served as its President from 1972-1979.
After leaving Nature's Sunshine Products, Brailsford worked as a stockbroker, but then decided to re-enter the herbal industry after his non-compete agreement with Nature's Sunshine Products had expired.
He retired in 1997 with no plans to return to the Direct Sales industry. But when his friend and CFO from Enrich International came to him with a business plan and a Discovery Channel video on the Moringa tree, Ken launched into the research that came to fruition in Zija International. Zija has grown rapidly, with many of its products derived from the Moringa tree. Zija has also launched a fitness line called Ripstix Supplements and an essential oils product line called Améo.
Ted Nuyten had the honor to interview Ken.
Ken, after 35+ years in the Network Marketing Industry what is your opinion about the business model?
The business model is fantastic!
It's free enterprise in its purest form. It's capitalism. It's equal opportunity to grow and be successful. Distributors can go as small or as big as they want to with it—it's up to them. The investment is so small relative to traditional businesses—as little as around $100—that it's crazy. Now having said that, because it's so easy to get involved some people don't take it seriously enough.
Maybe they don't have enough skin in the game. We also allow the opportunity for people to make a business out of it, just consume the products, and everything in between. Because this business is people-to-people, it gives Distributors the opportunity to explain the products. If the products were on the store shelf there would be no one there to explain the features and benefits and help people find what's right for them and their goals. The only negative I can think of about this business model is that it may offer challenges to people who aren't self-motivated.
Why do you have so much success, pure luck or hard and smart work?
I don't believe in failure! When I set my mind to something I accomplish it!
I'm not infallible, but I know that when I make a mistake I can identify it quickly, back up, fix it, and move forward. I love people; I love seeing them grow and prosper! I love the health and wealth that come with this type of business. I think it's a combination of those things that make me successful. I haven't had any failures in this industry nor do I expect any failures.
My companies might not have grown as fast as others, but I see that as a positive; it has allowed me the time needed to build a strong infrastructure, develop the products, and get everything in position before finding the top leaders and people who can move the company forward. I've learned how to do that. This is my third network marketing company and they've all been successful. I always surround myself with people who are smarter than me, which has ensured my success.
Ken and Linda at home
Did you have a mentor in the past?
In the early days of Nature's Sunshine Products I did have a mentor named Jack Ritchason, whom I recruited from another network marketing company. The industry back then was very small, with only a handful of companies in the world. Jack gave me a lot of suggestions. He lived in California and I was in Utah.
I would call him up with questions and ask for advice, but it was even somewhat new territory for Jack. He became a powerhouse in the industry! He was honest and hardworking and put everybody before himself. He wasn't worried as much about the money as he was about people being successful. Jack was a great mentor and taught me so many principles that I applied in my life. I try to do the same thing. I put people before profits and before my own needs. I take care of the Distributors and I take care of my employees.
And that's what's important! If I put people first and their health first then I will be successful. In my second company, Jack was still willing to help and did a little but I didn't need a mentor as much as I did in the beginning.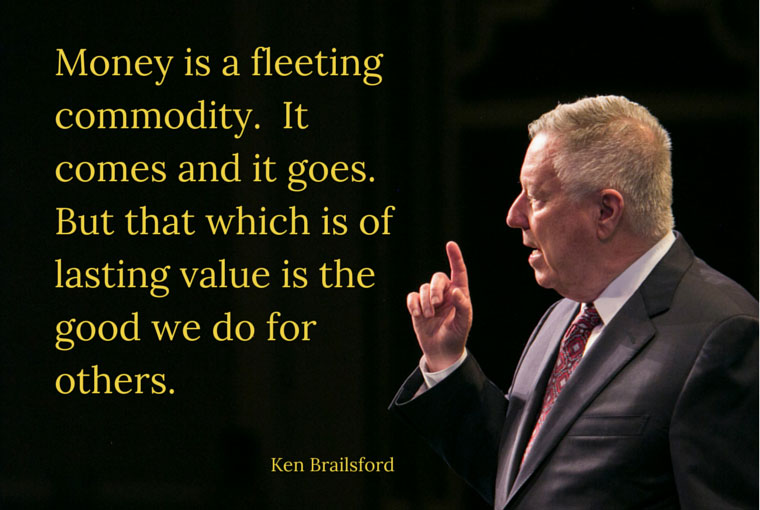 You are still on stage flying to South Korea lately, for the Zija launch, you are not retired?
I'm not retired. I don't plan on retiring until they carry me out with my boots first.
I think that's what makes life worth living. I'm not doing this for fun; I'm doing this to see people grow and benefit. I'm not in it for the money and I'm not in it for the short term—I'm in it for the long term. I'm building a legacy company that will be there for my kids and my kids' kids. That's what a legacy company is. Some people say, "Are you going to be a billion-dollar company?"
A legacy company isn't just based on the number of dollars, but on how solid it is, how long it will be around, and if it will still be growing. As a legacy company you don't stop at a certain number and you never quit growing, and that's what I plan on doing. I'm here at Zija, taking a more active role now, and I'm having the time of my life! It's just exciting to see what's happening and how the Distributors are responding to it.
Zija Korea Opening

Is your wife Linda your secret, behind every successful man there is a woman?
There never would have been a Nature's Sunshine company if I hadn't been married to my wife, because it was her Aunts and Uncles who we sat down with to start that company in 1972. If Linda hadn't been supportive, it probably wouldn't even be the industry it is now.
I've been called the "Father of Herbal Encapsulation," which means that we started a whole new industry. Nobody was putting herbs in capsules when we began; there were hippies that did some, but no one commercially. The whole industry began because of those seven members, myself included. They were family members of my wife. We sat around a kitchen table, filling capsules by hand with cayenne pepper, and then we went out and created a whole new industry.
To start a company—and an industry—from scratch required a lot of support, and my wife gave plenty of it. In fact, I could not have done anything in life without my wife Linda, who has always constantly supported me.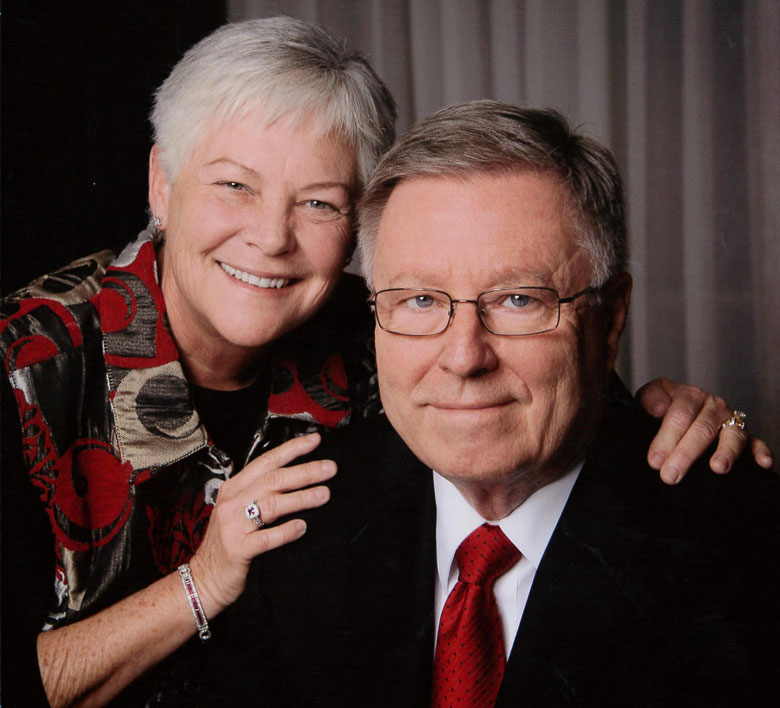 Starting a Network Marketing business is the easy part, getting the right leaders is not, how did you find the field leadership?
Going back to the beginning, they found me. Well, I found Jack Ritchason that I recruited. My mother knew about him and made the introduction since she lived in California. I went down there and recruited him and his wife and he turned out to be a dynamo. The other leader we had, DeLoy Aplanalp, came to me through another person and another company and those two people made it happen for us.
The leaders in my second company came to me because of my reputation and even in Zija my reputation has helped attract really great corporate and field leaders. In the US, as well as when we first entered international markets like Japan and Korea, top leaders came here because of my reputation. If you're offering the right products and opportunity and staying consistent, they'll come.
Ken 2014 Zija Convention
Why is Zija such a success?
There are multiple reasons. First of all, we have the most fantastic products in the world. All companies say that they have the best products, but I honestly mean it. What drew me to start again is that Zija can replace 200 – 300 products from my old company. This simplification means that you don't have to have a Ph.D. to understand all the products and how to best use them.
They're simple and so beneficial. The other reason for Zija's success is that we are built on a strong, solid foundation. We pay a fantastic compensation amount, which is certainly competitive, our software is excellent, and I've surrounded myself with a great management team. You put all of these things together and how do you not succeed? As long as you care and you're fair with your people, success will come.
Is personal development key in the Network Marketing industry?
Absolutely! People have to learn how to open their mouths, how to share, and how to be successful. They also have to learn how to sell and how to close people. They do it in large degree by reaching to their Upline members for support and learning from them. Additionally, personal development comes by attending as many corporate and field events as possible.
One big weakness in this industry is that often Distributors sign new people up and then say "Good luck, go do it" and they don't train them. Personal development is one of the pillars of Zija's Life Unlimited mantra and company culture, and we heavily emphasize it in everything that we do. We have some exciting personal development tools coming down the pipeline for our Distributors.
Ken Brailsford Private Zija Jet
What advice would you give a Newbie in the network marketing industry?
First of all, you've got to develop a strong "why." Why are you involved in this business? If it's just because you love the products and you want to consume them, that's a different "why" than "I've got to get an income or I'm going to starve to death." They've got to have persistence and longevity. They've got to push through the hard months, especially the first few.
It's not easy. It's like trying to push a car through the intersection and the car is stalled; It's very hard to get it moving at first, but once it starts moving it will get easier and easier. It doesn't happen in a week. You can't be shortsighted and say: "I'll give this a month and see what happens." You might be a successful consumer, but you won't be a successful businessperson or Distributor if you don't give it time and effort.
About Zija International
Zija International, a privately held and privately funded business founded and run by Kenneth E. Brailsford, develops natural health, wellness, nutrition and fitness products. The company operates in more than 50 countries worldwide. Zija has seen consistent growth every year since it was founded over 9 years ago and was recently named the "Fastest-Growing Company in Utah" by Utah Business Magazine. It has also been recognized on fastest-growing and top-revenue lists by Inc. Magazine, Direct Selling News, and Utah Valley Magazine, to name a few.
Its corporate office and more than 4 million sq. ft. of state-of-the-art warehouse, shipping and manufacturing facilities are located in Utah, United States. Zija International employs more than 200 individuals and has the capacity to grow to more than two billion dollars in annual sales.