Mannatech Promotes President Alfredo Bala To CEO
August 12, 2015
By Nicole Dunkley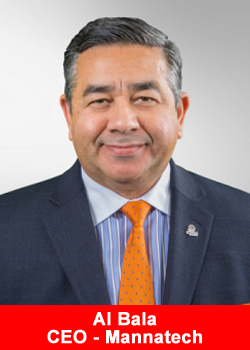 Mannatech, Incorporated (NASDAQ: MTEX), the pioneer of nutritional glycobiology, leading innovator of naturally-sourced supplements based on Real Food Technology® solutions, and creator of the M5MSM (Mission 5 MillionSM) social entrepreneurial movement, today announced it has promoted its President, Alfredo (Al) Bala, to the position of Chief Executive Officer. Bala will also retain the title of President.
Bala, 55, is well known throughout Mannatech for his passionate support of the company's sales Associates and has been a key contributor to bringing Mannatech back to profitability. He has 35 years of experience working in the direct sales industry, with 28 of those spent as a field sales leader.
He joined Mannatech in 2007 and rapidly increased his responsibilities at the company, ascending to the position of President in June of 2014. Bala also played a crucial role in Mannatech's expansion into 15 countries since 2007, including South Africa, Mexico, Scandinavia and soon, Colombia.
"In Al Bala, Mannatech has a leader with a deep understanding of the daily effort it takes to succeed in the direct sales industry, as well as someone who knows how to build internationally. We're fortunate to have that person serving Mannatech as its President, and delighted to also have him now serve as CEO," said J. Stanley Fredrick, Chairman of Mannatech's Board of Directors.
"We are intentionally shifting the company culture to be more focused on our independent sales Associates and on international growth. Al has been a vital part of Mannatech's success, and I am looking forward to his inspirational leadership and understanding of our Associates and global development to lead us to new heights."
"This promotion is an amazing honor, and a humbling moment for me," said Bala. "Something that's been 35 years in the making."
"I am wholly focused on the success and care of our outstanding sales Associates around the globe," said Bala.
"Mannatech is already renowned for having some of the best technologies in the world in our nutritional supplements and skincare products, and it is my vision for Mannatech to also be known for having the best rewards, recognition, support, tools and training in the direct sales industry. I have spent many years working as a sales Associate, so I have a unique perspective how to best serve our sales teams. I am excited and proud to now be the chief advocate for our Associates and lead Mannatech into the future."
Prior to joining Mannatech, Bala served for 16 years as Chief Operating Officer of Britt Worldwide, LLC, one of the largest independent Amway network marketing organizations, launching operations in over 65 countries across the globe with a sales volume of more than $500 million.
Bala joined the direct sales industry full time in 1992 after leaving the Bose Corporation as a manufacturing plant manager, where he oversaw more than 200 employees and was responsible for directing operations.
"I left a very promising career to pursue what I felt was an even better option – my own business – after falling in love with the direct sales industry," said Bala. "The organizational skills I learned running a large manufacturing plant with hundreds of people, along with my decades of experience in the direct sales industry, has left me ideally suited for this type of role."
Bala replaces Dr. Robert Sinnott, current CEO of Mannatech. Dr. Sinnott served as the company's co-CEO from 2009 to 2012, and as CEO since 2012.
"We are extremely grateful for Dr. Sinnott's leadership that helped continue the high standard we set for our science-based products, and for returning the company to profitability," said Fredrick. "We wish him the very best in his future endeavors."
Bala will assume his new role as CEO and President of Mannatech immediately.
Individuals interested in Mannatech's products or business opportunity can learn more at Mannatech.com.
About Mannatech
Mannatech, Incorporated, develops high-quality health, weight and fitness, and skin care products that are based on the solid foundation of nutritional science and development standards. Mannatech is dedicated to its platform of Social Entrepreneurship based on the foundation of promoting, aiding and optimizing nutrition where it is needed most around the world.
Mannatech's proprietary products are available through independent sales associates around the globe including North America (United States, Canada, and Mexico), Asia/Pacific (Australia, New Zealand, Japan, Taiwan, Singapore, the Republic of Korea, and Hong Kong), and EMEA (Austria, Denmark, Germany, Norway, Spain, Sweden, the Netherlands, the United Kingdom, Estonia, Finland, the Republic of Ireland, Czech Republic, South Africa, and the Republic of Namibia). For more information, visit Mannatech.com.