Market America & SHOP.COM Host 20,000+ Entrepreneurs At 2015 Convention
August 15, 2015
By Nicole Dunkley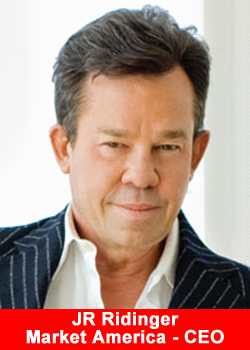 Market America – SHOP.com Annual International Convention in Greensboro, North Carolina, hosted 20,000 plus eager entrepreneurs ready to teach consumers how to convert spending into earning through the revolutionary Shopping Annuity™. Special guest appearances included La La Anthony, Cliff Floyd, Fat Joe, Rohan Marley and Daymond John, star of Shark Tank and entrepreneur, who shared inspirational tips on managing your own business.
The highlight of the events was when President, CEO and Founder JR Ridinger took his keynote speech to new heights, and walked a tightrope pushing a wheelbarrow 15 feet in the air to illustrate the importance of belief to accomplish your dreams.
20,000 Entrepreneurs, Celebrities and Friends witness President & CEO of Market America | SHOP.COM, JR Ridinger, launch The Shopping Annuity while walking a high wire over Niagara Falls while pushing a wheelbarrow full of bricks proving that anything is possible with belief. This was clearly the highlight of the four-day event held at the Greensboro Coliseum.
We are more proud and excited than ever," said Market America | SHOP.COM President and CEO JR Ridinger. "People everywhere are finding true success through the Market America UnFranchise® Business. With our revolutionary Shopping Annuity, where shoppers analyze their shopping habits and learn how to convert that spending into earning, we are changing lives," he said. "At this International Convention, we disclosed new technologies, new products, new methodologies and new opportunities that will allow the world to convert its spending into earning."
Setting the stage for the weekend of groundbreaking announcements and launches, Senior Executive Vice President Loren Ridinger stated in her welcome address, "We are all meant to shine. It's not just in some of us, it's in all of us. Nothing is impossible!"
SHOP.COM's new customer Platinum credit card and UnFranchise Owner business edition black Mastercard was announced by C.O.O Marc Ashley and offers even more cash back on every purchase on SHOP.COM.
Market America | SHOP.COM ranks #64 on Internet Retailer magazine's Top 100.
"Combining our technology advancements with expanded product offerings, now totaling over 80 million products from over 3,000 partner stores and direct suppliers, SHOP.COM is making it easier for online shoppers to find exactly what they are looking for while providing the best value and the most cashback," according to Ashley.
The company described how leveraging cutting edge Adobe Marketing Cloud tools provides a tailored experience for every site visitor based upon their digital body language. Ultra-relevant product recommendations provide our customers with the best complementary and alternate product options to enhance their shopping experience on SHOP.COM.
Upgrades to SHOP.COM's patented eGifts feature were also revealed at the event. The eGifts feature on SHOP.COM allows anyone to easily give a gift to anyone, making it the perfect digital gift-giving tool. The gift recipient can choose among several gift ideas that the gift giver selects among SHOP.COM's 80 million+ products.
In addition to advancements to its website, the company introduced its newest applications in responsive design to its mobile suite of products with impressive mobile developments and interfaces.
"We have worked hard to ensure that our mobile suite of products provide the best user experience, fast checkouts, and blazing speed," said Vice President of Mobile & Social Products Steve Ashley. "Simply put, we are proud of the direction SHOP.COM mobile is going and what we offer."
From the award winning ABC Network show Shark Tank, Daymond John discussed the importance of entrepreneurship and how to capitalize on the digital.
La La Anthony and Loren Ridinger launched new additions to their ultra successful, award winning Motives Cosmetics brand and shared their thoughts on the power of being a Motives beauty entrepreneur.
Motives Cosmetics has become one the most dominant cosmetics companies on Instagram, with nearly 2 million followers — more than L'Oreal, CoverGirl, Estee Lauder and Lancome combined.
Grammy-nominated rap artist and entrepreneur Joseph "Fat Joe" Cartagena, the company's President of Urban and Latino Development, shared why SHOP.COM is the best way for consumers to shop and the power of becoming an entrepreneur with Market America. "More and more people are realizing they need to take control over their financial future by owning their own business with Market America and SHOP.COM," says Cartagena.
Rohan Marley, son of legendary Reggae musician Bob Marley and founder of Marley Coffee, discussed the success of Marley Coffee's partnership with SHOP.COMGroceries, which now has over 22,000 grocery items and is the company's fasting growing category of the SHOP.COMwebsite.
ABOUT MARKET AMERICA, INC. & SHOP.COM
Market America, Inc. is a product brokerage and Internet marketing company that specializes in One-to-One Marketing. Its mission is to provide a robust business system for entrepreneurs, while providing consumers a better way to shop. Headquartered in Greensboro, NC, the company was founded in 1992 by President and CEO JR Ridinger and has generated $5.8 billion in accumulated sales. Market America employs nearly 750 people globally with operations in the United States, Canada, Taiwan, Hong Kong, Australia, United Kingdom, Mexico, Spain and Singapore.
Through the company's shopping website, SHOP.COM, consumers have access to over 40 million products, including Market America exclusive brands and thousands of top retail brands. Internet Retailer has ranked SHOP.COM #57 in the 2014 Internet Retailer Top 500 Guide and the 18th fastest growing Internet Mobile Retailer. By combining Market America's entrepreneurial business model with SHOP.COM's powerful comparative shopping engine, Cashback program, Hot Deals, ShopBuddy™, social shopping integration and countless other features, the company has become the ultimate online shopping destination.