Nature's Sunshine Q2 2015 – Down 12.5% To $81.2 Million
August 12, 2015
By Nicole Dunkley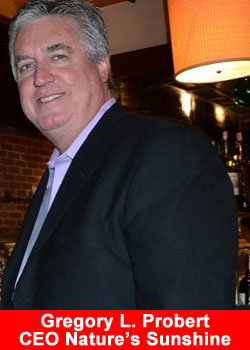 Nature's Sunshine Products, Inc. a leading natural health and wellness company engaged in the manufacture and direct selling of nutritional and personal care products, recently reported its financial results for the second quarter ended June 30, 2015.
Second Quarter 2015 Financial Highlights
Net sales revenue of $81.2 million, decreased 12.5% compared to $92.8 million in the second quarter of 2014. On a local currency basis, net sales revenue decreased 7.7% compared to the second quarter of 2014. Net sales revenue was negatively impacted by a $6.0 million decline in net sales in the NSP Russia, Central and Eastern Europe segment, as well as a $4.5 million unfavorable impact in foreign currency exchange rate fluctuations.




Net income from continuing operations was $2.4 million, or $0.12 per diluted common share, compared to $3.6 million, or $0.22 per diluted common share in the second quarter of 2014. Excluding planned restructuring charges of $2.1 million incurred during the second quarter of 2015, earnings per diluted common share were $0.19.




Adjusted EBITDA was $5.1 million compared to $8.0 million in the second quarter of 2014. Adjusted EBITDA, which is a non-GAAP financial measure, is defined here as net income from continuing operations before taxes, depreciation, amortization and other income adjusted to exclude share-based compensation expense.
We were pleased to achieve a fourth consecutive quarter of local currency net sales growth in our largest market, NSP United States, and in NSP Canada and Synergy Europe, commented Gregory L. Probert, Chairman and Chief Executive Officer. In Europe, we benefited from continued momentum following the launch of our Synergy weight management program, SLMsmart, in addition to last year's investments in sales resources for the region. In NSP North America, our new products coupled with increased adoption of our retail sales tools and the IN.FORM sales program, aimed at building a daily habit of health and weight management, continue to gain traction. We are also very excited about our pending entry into China which is progressing on track. We expect to obtain our direct-selling license in 2016 and are finalizing our product offerings and registrations in the e-commerce channel which we expect to roll out in the second-half of 2015.
Mr. Probert continued, More than offsetting growth during the quarter was continued weakness in NSP Russia, Central and Eastern Europe primarily related to political unrest in Ukraine and Russia as well as the negative impacts of the strong dollar. We do not expect conditions in the region to stabilize in the near-term but, nevertheless, remain committed to our independent Distributors and continue to support their activity with additional promotions, events, product kits and training.
Mr. Probert concluded, While our second quarter financial results were muted on the whole, we are making solid progress in our effort to restore top and bottom-line growth. As part of the restructuring plan we initiated in April, we expect to realize approximately $10 to $15 million of annualized operating income improvement by streamlining our operations and refocusing our activities on profitable growth opportunities.
About Nature's Sunshine Products
Nature's Sunshine Products, a leading natural health and wellness company, markets and distributes nutritional and personal care products through a global direct sales force of over 625,000 independent Managers, Distributors and customers in more than 40 countries. Nature's Sunshine manufactures most of its products through its own state-of-the-art facilities to ensure its products continue to set the standard for the highest quality, safety and efficacy on the market today. The Company has four reportable business segments that are divided based on the characteristics of their Distributor base, similarities in compensation plans, as well as the internal organization of NSP's officers and their responsibilities (NSP Americas; NSP Russia, Central and Eastern Europe; Synergy WorldWide; and China and New Markets). The Company also supports health and wellness for children around the world through its partnership with the Sunshine Heroes Foundation. Additional information about the Company can be obtained at its website, www.naturessunshine.com.