Nu Skin Q2 Revenue Down 13.8% To $560 Million
August 7, 2015
By Team Business For Home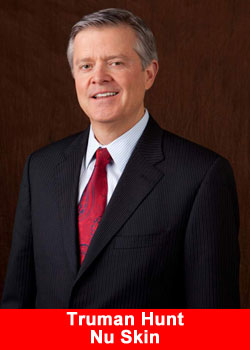 Nu Skin Enterprises, Inc. (NYSE: NUS) today announced second-quarter results with revenue of $560.2 million compared to $650.0 million in the prior-year period.
Revenue in the quarter was negatively impacted 7 percent by foreign currency fluctuations. Revenue in the second quarter of 2014 included $76 million in limited-time offer product sales, while there were no significant limited-time offers during the second quarter of 2015. Earnings per share for the quarter were $0.75, compared to $0.32 in the prior-year period which included a $50 million inventory write-down and a $25 million foreign currency charge related to Venezuela.
We are pleased the business performed at the high end of our expectations for the second quarter, said Truman Hunt, president and chief executive officer.
Additionally, we are encouraged by growth in the number of sales leaders sequentially, including a 19 percent increase in sales leaders in Mainland China. We believe that this trend signals growing sales leader energy as we build toward the introduction of our new ageLOC products in the second half of the year.
Additionally, our financial performance and strong cash flow enabled us to repurchase approximately $50 million of shares in the second quarter. Overall, we are pleased with the direction of the business and continue to anticipate a return to revenue growth in the second half of the year.
Operational Performance
The company's operating margin for the quarter was 12.8 percent, compared to 8.4 percent in the second quarter of 2014. Gross margin during the quarter was 80.3 percent, versus 76.0 percent in the prior-year period. Last year's gross margin was unusually low due to the inventory write-down. Selling expenses were 42.7 percent of sales in the second quarter, compared to 43.6 percent in the prior-year period. General and administrative expenses were 24.8 percent of sales compared to 24.0 percent in the prior-year period.
The company's effective income tax rate for the quarter was 35.3 percent, compared to 42.0 percent in the prior year. Last year's tax rate was abnormally high due to the tax impact of a foreign currency charge related to Venezuela. Cash and current investments at the end of the quarter were $303.9 million and debt was $252.1 million. Dividend payments during the quarter were $20.5 million. Cash flow from operations for the quarter was $85.4 million, and the company repurchased $49.6 million of its outstanding shares.
Outlook
Sales leader enthusiasm continues to build for our upcoming limited-time product launches that include ageLOC Youth, our most advanced anti-aging supplement, as well as ageLOC Me, a unique anti-aging skin care system that enables consumers to personalize a daily regimen based on individual preferences and skin care needs, said Hunt. These new ageLOC products will be highlighted at our global sales leader convention in early October, and we anticipate they will help drive healthy year-over-year growth in the second half of 2015. We expect this momentum to continue as we begin to roll these products out on a full-time basis in 2016.
We are also pleased with our progress in several key markets, particularly Mainland China, where we generated healthy sequential growth in both sales leaders and revenue. In the Greater China region, we will be rolling out our ageLOC Essentials line of cosmetic oils in the third quarter. As we move closer to our product launches, we expect positive trends to continue in our global sales force, and also anticipate growth in our active consumer base, concluded Hunt.
We project second-half local-currency revenue growth of approximately 15 percent, said Ritch Wood, chief financial officer. Our prior guidance anticipated a negative foreign currency impact of 7 percent in the third and fourth quarters. We now project a negative impact of 10 to 11 percent. Given this impact, we anticipate third-quarter revenue will be in the $600 to $620 million range with earnings per share of $0.96 to $1.00. We anticipate annual revenue to be in the $2.40 to $2.44 billion range, with earnings per share of $3.47 to $3.55 which includes a $0.12 expense associated with the Venezuela foreign currency charge in the first quarter of this year. Excluding this charge, earnings guidance would be in the range of $3.59 to $3.67. Including currency impact, this guidance reflects second-half reported revenue growth of between 5 and 6 percent, concluded Wood.
The Nu Skin management team will host a conference call with the investment community on Aug. 6, 2015, at 5 p.m. (EDT). Those wishing to access the webcast, as well as the financial information presented during the call, can visit the Investor Relations page on the company's website at ir.nuskin.com. A replay of the webcast will be available at the same URL through Aug. 21, 2015.
About Nu Skin Enterprises, Inc.
Nu Skin Enterprises, Inc. demonstrates its tradition of innovation through its comprehensive anti-aging product portfolio, independent business opportunity and corporate social responsibility initiatives. The company's scientific leadership in both skin care and nutrition has established Nu Skin as a premier anti-aging company.
The company's anti-aging products feature the ageLOC® line of products including ageLOC® Tru Face® Essence Ultra firming serum, the ageLOC® TR90® weight management and body shaping system, ageLOC® R2 nutritional supplement, and ageLOC® Transformation daily skin care system. A global direct selling company, Nu Skin operates in 53 markets worldwide and is traded on the New York Stock Exchange under the symbol NUS. More information is available at https://www.nuskin.com.