PartyLite Sells 4 Million Units Of New Product In Record Time
August 12, 2015
By Tina Williams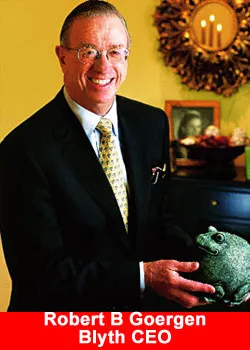 As the world's number one direct seller of home fragrance, including candles, wax warmers and other innovative flameless fragrance, PartyLite has been delivering premium scents to fragrance lovers for more than 42 years. But PartyLite is also passionate about innovating – finding new and better ways to deliver the fragrances its customers crave.
For example, the Escential Jar™ by PartyLite Scented Candle sold its first million units within weeks of introducing it in 2013. It has since become the most popular, fastest-selling PartyLite candle ever with 4 million sold to date. Candle-lovers adore that each of these jar candles burns an average of 50 hours.
That translates into 8.3 million days of PartyLite fragrance delivered by these popular candles so far! Regardless of its success, PartyLite decided that the candle could be improved.
This fall, PartyLite takes its Escential Jar Candle to the next level by introducing a beautifully curved re-design making the candle's fragrance experience even better:
The new flared opening releases even more highly scented fragrance.
The unique tapered design creates the cleanest burn ever, with no wasted wax.
The exclusive shape of the base signals the end of the candle's burn time.
The Escential Jar Candles come in a huge variety of colors as well as more than 30 distinctive scents. Like several of the most popular PartyLite products, these new Escential Jars are offered in beautiful new packaging, making them the perfect, last-minute gifts to have on hand year-round!
2 Million SmartScents by PartyLite Units Sold
Another fragrance delivery innovation that PartyLite customers love is called SmartScents by PartyLite™ – and sales of nearly 2 million units in the last year and a half are testament to the worldwide popularity of this flameless fragrance option.
SmartScents are rolled paper sticks uniquely infused with PartyLite premium fragrance. The sticks are crafted of wood from a responsibly managed forest, and the fragrance in each stick lasts up to 30 days. There are 14 inviting scents to choose from and nine different ceramic or sandstone holders to hold them. Perfect for places where flameless fragrance is preferred, SmartScents by PartyLite sets make ideal gifts, too. Their very simplicity is part of their attraction. No flame, no spills, no mess – just convenient, innovative fragrance delivery.
At PartyLite, we're always looking for new and exciting ways to deliver fragrance, says Rob Goergen, President of PartyLite Worldwide. Because our customers respond so passionately to each new innovation, they inspire us to keep on innovating. Whether it's a scented candle or a new kind of flameless fragrance form, they expect the very newest and the best. So stayed tuned – we're going to unveil even more innovation for 2016.
About PartyLite
PartyLite is the world's #1 party plan company selling premium home fragrance, including candles, wax warmers and other innovative flameless fragrance, as well as candle accessories and holiday and home decor. PartyLite products are available in 23 countries, predominately through independent PartyLite business entrepreneurs. Since 1997, the PartyLite family of consultants, customers and employees has raised nearly $15 million for the American Cancer Society and nearly $4 million for Children's Miracle Network.
In 2015, PartyLite celebrates 42 years as the global leader in its category and 25 years as a member of the distinguished Blyth family of direct selling companies (BTH). PartyLite is one of 65 Direct Selling Association member companies recognized during the 2015 annual meeting for participating in the DSA's Code Communication Initiative, focusing on observing and communicating the DSA Code of Ethics as widely as possible. Based in Plymouth, Massachusetts, PartyLite is a member of the Direct Selling Association and the Better Business Bureau.