Sunrider Featured In South China Morning Post
August 15, 2015
By Team Business For Home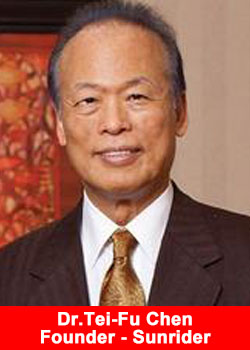 Health and wellness company Sunrider International specialising in Chinese herbal remedies was recently profiled in Hong Kong's leading newspaper South China Morning Post. The article provides a comprehensive overview of Sunrider, its business opportunity, and founders, Drs. Tei-Fu & Oi-Lin Chen.
At its core, the principle of yin-yang is about the interdependence of contrary forces. Raised on Chinese traditional medicine since childhood, renowned herbalist Dr Tei-Fu Chen fused yin-yang and Western technology to create a wellness model that helps to achieve a balanced life.
This paradigm is known to millions of advocates around the world as the Philosophy of Regeneration, which holds that the body can balance itself and maintain healthy systems by simultaneously nourishing and cleansing it with proper nutrition. Sunrider International, Chen's vehicle for this vision, has led its advocates to abundance with lifestyles built around highly potent health supplements, skincare products and cosmetics.
We're part of the Chinese culture, but our technology is from the Western world, says Chen, chairman of the board of Sunrider. We have been established and focused on quality for the past 33 years.
Chen leads a multidisciplinary research team in formulating potent solutions from carefully chosen natural herbs. Representing this fusion of ancient herbal knowledge and Western medical technology, Sunrider products are available in 2,000 retail stores in Asia and across nearly 50 countries today.
It was a profound need for health and financial independence that gave life to Sunrider. Chen and his wife, Sunrider president Dr Oi-Lin Chen, are no strangers to a life of struggles and imbalance.
As a sickly boy, Tei-Fu Chen ate herbs to improve his health and learned about them from his grandfather. Inspired by his grandfather's passion for Chinese herbal philosophy, Tei-Fu Chen studied ancient herbal manuscripts and earned his pharmacy degree from Kaohsiung Medical University in Taiwan. He married Oi-Lin Chen, then a medical student from Hong Kong, and immigrated to the United States to pursue a better life. The couple struggled for many years until Tei-Fu Chen seized the opportunity to start his own company.
At the crest of her family life, with her youngest child being only five years old, Oi-Lin Chen was diagnosed with nasopharyngeal cancer 25 years ago, and was given a 10 per cent chance of survival. Determined to stay alive, Oi-Lin Chen underwent surgery and extensive chemotherapy and radiation sessions while religiously taking Sunrider supplements to strengthen her immunity. Exposure to such procedures makes cancer patients highly susceptible to pneumonia and other fatal complications. Oi-Lin Chen suffered none of these side effects and is in the pink of health except for a slight hearing difficulty.
We are the first to use our products, Oi-Lin Chen says. We don't test on animals during research and development. If I like the product and it works really well for my family, then we sell it.
Harnessing the power of natural ingredients
Sunrider has developed more than 400 wellness products over the past three decades. Melding ancient herbal science with modern medical technology, Sunrider captures the health benefits of natural ingredients through state-of-the-art extraction and concentration processes.
Selecting a large amount of the finest raw herbs and using trade-secret manufacturing methods, Sunrider cleanses, formulates, extracts, spray-dries, enhances and coats the herbs to produce a small amount of concentrated product. Maintaining its merchandise's purity and quality, Sunrider does not use animal proteins nor add chemicals to its products.
Our strongest point is identifying the nutrient, analysing it inside the food, concentrating it and removing the unwanted substances, Tei-Fu Chen says. Too much of any one ingredient is not good for us. But there are so many phytochemicals and antioxidants that are very important for optimum health, so we focus only on those useful for nutrition.
Apart from producing dietary supplements, Sunrider opened a one million sq ft manufacturing plant in Kunshan, China, to produce noodles and other prepared food using all-natural and imported ingredients. Sourcing eggs, beef, soy sauce and other whole-food items from known and established producers ensures the quality and safety of Sunrider's food products. Sunrider herbal foods are also free of chemical additives, artificial sweeteners and preservatives.
Applying environmentally-friendly systems, Sunrider's seven manufacturing facilities worldwide use food-grade, biodegradable lubricants and paints to keep machines running smoothly. Safety and quality control measures are done throughout the production process to test each batch for contaminants.
Standing by the quality and safety of Sunrider products, Tei-Fu and Oi-Lin Chen have passed on the tradition of owner expertise and groundbreaking innovation to two of their sons: Eric Chen, an organic chemist, and Dr Reuben Chen, a medical doctor and acupuncturist. Together, the Chen family leads a team of scientists in personally overseeing the research, formulation and production of Sunrider products.
Products that nourish and cleanse
As today's fast-paced lifestyle and environment promote unbalanced diets and produce more stress, there is a greater need for more energy and better nutrition. To achieve optimal health, the body must consume large amounts of food to get the required daily volume of nutrients. Sunrider food supplements help people to gain proper nourishment without having to consume too much food.
My point of view is very simple: can I concentrate the food so people get high nutrition, but don't need to eat too much? Tei-Fu Chen says. I've always believed that overeating is one of the biggest problems today, so we developed SunTrim Plus. Take it 30 to 45 minutes before a meal, and it will help people feel fuller without overeating. Our herbal foods, such as SunBar and Vitashake, are very highly concentrated so they provide our bodies with better nutrition without overeating. We can have healthy and good nutritional food and diet.
Backed by 30 years of experience in the beverage business, Sunrider has developed Evergreen and Fortune Delight super juices that pack high doses of herb essences rich in phytochemicals, antioxidants and bioflavonoids. Evergreen's main ingredient is chlorophyll, which helps clean the intestines and aids in digestion. Fortune Delight is a concentrated tea drink that maximises the benefits of catechins and polyphenols to naturally cleanse the body.
Certain ingredients need to be concentrated so the body can get the full benefits of the nutrient,
Tei-Fu Chen says. People take health supplements because they want something more nutritious to help them. We also don't focus too much on chemicals such as vitamins. Our concentration is mainly on food.
With falling birth rates and increased life expectancy, Asia's large and ageing population also presents a burgeoning opportunity for Sunrider's nutritional supplements and anti-ageing products.
We want to grab the tail of youth, Oi-Lin Chen says. We all hope we can live longer and look a little bit younger. I think the nutritional supplements, skincare range and weight management areas will continue to expand for us.
To meet the demand for anti-ageing products, Sunrider launched Dr Chen Youth Emulsion using the latest DNA technology. Precious stem cell extracts from French grapes and Swiss apples help to repair the signs of ageing and renew the skin's youthful appearance. Addressing concerns among Asians over dull skin tone and age spots, Sunrider's gentle yet effective Brightening Serum will lighten the skin tone without damaging skin.
Win-win opportunities
Sunrider has successfully integrated the potential of high-quality wellness goods into a worthwhile business strategy. It distributes its products through its independent business owner (IBO) division and authorised business owner (ABO) system. The IBO division caters to markets in Hong Kong, Japan, South Asia, North America and Europe using a direct-selling system. Meanwhile, the ABO system governs retail and franchise stores on the mainland and in South Korea, Malaysia, Singapore and Taiwan. It has been life-changing for many business owners in Asia.
Our product is very good, so people want it and they are willing to invest their own money selling it, Oi-Lin Chen says. Our job now, besides selling the product, is also helping people regain their financial freedom.
Offering fair and lucrative compensation schemes, Sunrider provides store owners with inventory management support such as ordering, shipping and warehousing systems. With low investment and overhead costs, the retail store model has grown rapidly in Asia. Successful business owners are keen on opening new stores in order to build a legacy that they can pass on to their children and family.
Store owners in China and Asia can usually live on the store profits, Oi-Lin Chen says. They are able to send their children to America to study. Once the children go back home, they continue managing the store, and that's how they expand.
One of those who continue to benefit from Sunrider's health products and business plan is Tang Kam Tim from Macau. Prior to joining Sunrider 25 years ago, Tang was a salesperson with just a high school education. Today, he is a successful business owner who has earned US$25 million with Sunrider.
People are very happy and they make handsome money when they join Sunrider, Tei-Fu Chen says. It is a win-win situation.
Originally Published in SCMP