Talk Fusion Unveils Video Chat Beta, New Join Site
August 20, 2015
By Nicole Dunkley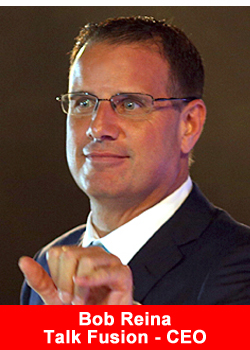 In an exclusive worldwide video broadcast, Talk Fusion thrilled thousands of Associates with the long-awaited news that their innovative cross-platform CONNECT Video Chat has just gone into full beta testing. This is the final step before the revolutionary, world's-first video product is released to the public.
With outstanding video quality and unmatched value, CONNECT Video Chat is positioned to become THE go-to video conversation solution for personal and business communication. For the first time, users will be able to hold crystal clear video conversations between any smartphone, PC, and tablet. Unlike current brand name chat applications, Video Chat requires no sign-ups and no account registrations.
"With Video Chat, we just changed not only relationship marketing, but we've changed technology," said Grand Blue Diamond Cedric Penn. "I've been in the industry for 25 years, made a lot of money and helped a lot of people, but I've never been a part of a company that made history. Now I am."
Talk Fusion will continue rolling out new features and enhancements throughout the beta testing period with the goal to release the final version of Video Chat as quickly as possible.
While the attending Associates had been anticipating the Video Chat Beta announcement, they were caught by surprise when Talk Fusion Founder & CEO Bob Reina unveiled a fully redesigned prospecting website and exclusive new Opportunity Presentation video available on JoinTalkFusion.com.
Available in multiple languages, the new Join Site was designed as the perfect destination to send interested Prospects from any country around the world, 24 hours a day. The site outlines the simple steps of Invite, Follow-up, and Repeat that will guide anyone from any walk of life toward creating a successful Talk Fusion business.
The feature attraction of the Join Site is a brand-new high-energy automated Business Opportunity video created specifically to tell a Prospect everything they could need to get excited about Talk Fusion and want to become part of the team. The Associate only needs to send a link to the Join Site; they no longer have to wait for pre-scheduled live presentations.
"We want to give our Associates an unbeatable ability to inspire and educate their Prospects," said Founder & CEO Bob Reina. "This incredible video actually does most of the work for them; it explains the Opportunity, our world's first Instant Pay Compensation Plan, and shows how our video products are helping people and businesses around the world."
With the onsite sign-up form, the new JoinTalkFusion.com site makes it easy for a motivated Prospect to act on their excitement and join Talk Fusion right away. They can also watch testimonial videos from hardworking top earners who have transformed their lives through the Talk Fusion business opportunity.
"This is the very first time in 30 years in the industry that I see a simple system that's going to allow me to just invite people to check out the most incredible technology in the world. And then we sign them up!" said Blue Diamonds Leslie and Jim Brown. "This was the biggest day in the 8 year history of this company. Awesome things took place today."
Grand Blue Diamond Ron Wright was excited for the company's future. "What I've just seen has blown me away. When you look at what we have – it's simple, it's universal. The world is on notice because Talk Fusion is on the move."
ABOUT TALK FUSION
A trend-setting industry leader, Talk Fusion has been connecting people around the world since 2007 through cutting-edge video technology for social and business communication. Talk Fusion's innovative video products are marketed person-to-person by independent Associates in more than 140 countries, empowering them to earn the financial freedom to live their dreams.
Founded in 2007 by CEO Bob Reina, Talk Fusion introduced the world's first Instant Pay Compensation Plan. Talk Fusion adheres to the highest ethical business practices and is a member of the prestigious Direct Selling Association (DSA). Reina firmly believes that "with great success comes greater responsibility."
Talk Fusion fosters a strong commitment to giving back to friends, family, communities, and animal charities across the world to produce a positive global change. Learn more at www.TalkFusion.com and "Like" Talk Fusion at www.facebook.com/TalkFusion.
Income Disclaimer:
Any earnings portrayed in any Talk Fusion marketing materials are not necessarily representative of the income, if any, that a Talk Fusion Associate can or will earn through his or her participation in the Talk Fusion Instant Pay Compensation Plan. All references to income, implied or stated, throughout the Talk Fusion Instant Pay Compensation Plan are for illustrative purposes only. These figures should not be considered as guarantees or projections of your actual earnings or profits. Talk Fusion does NOT guarantee any level of income or earnings to any Associate; any representation or guarantee of earnings would be misleading. The purchase of a Talk Fusion Product Package is completely optional and is not required for an Associate to participate in the Talk Fusion Instant Pay Compensation Plan.