USANA Appoints Co-CEOs
August 5, 2015
By Nicole Dunkley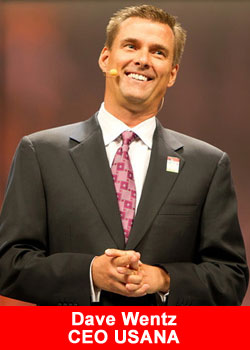 USANA Health Sciences recently announced that the Board of Directors has appointed Dave Wentz and Kevin Guest as Co-Chief Executive Officers of the Company, effective immediately. Mr. Wentz will oversee USANA's global operations, while Mr. Guest will lead USANA's worldwide field development and sales efforts. Both Mr. Guest and Mr. Wentz will report directly to the Board of Directors.
Dr. Myron Wentz, USANA's founder and Chairman of the Board, commented, "Kevin has been with USANA for over 20 years, most recently as President, and has played a key role in leading USANA to new heights in sales and financial performance.
Dave has also been with USANA for over 20 years and has served in executive positions for much of that time, most recently as Chief Executive Officer. As USANA approaches the $1 billion revenue milestone, the Board is preparing for the next chapter of growth. With USANA's expanding global presence, and the demands on the chief executive position, the Board determined that a division of responsibilities within the CEO role would maximize USANA's potential."
Dave Wentz commented, "Kevin and I have worked as a team both formally and informally for more than 20 years, and he has demonstrated his leadership skills as President of our company. It is exciting to be able to recognize Kevin for his contributions and have him join me as Co-CEO. I look forward to sharing with him the growing CEO responsibilities as USANA capitalizes on its many growth and expansion opportunities."
Kevin Guest commented, "I am honored by the recognition from the Board of Directors and Dave. Dave and I have worked side by side to achieve many goals over the years, and I look forward to working with Dave and the rest of our team as we take USANA to the next stage of growth."
USANA also reported today that Paul Jones, Chief Financial Officer, has been appointed Chief Leadership Development Officer, where he will be responsible for the key role of overseeing USANA's global executive development and succession planning program. Mr. Jones will continue his CFO responsibilities while the Company initiates a search for a new Chief Financial Officer.
About USANA
Founded in 1992, USANA Health Sciences is a U.S.-based nutritional company that manufactures high-quality supplements, personal care and energy products in its FDA-registered facility in Salt Lake City. Learn more about USANA by visiting our website https://www.usana.com or the official USANA blog https://whatsupusana.com.