Actress Cobie Smulders Designs For Stella & Dot
September 11, 2015
By Team Business For Home
Actress Cobie Smulders has teamed up with social selling company Stella & Dot to design a bracelet to raise funds for Cancer research.
The former How I Met Your Mother star is a cancer survivor, who had ovarian cancer at the age of 25. She has partnered with Stella & Dot  to design the Resilience Cuff, an artful rose gold and gray cuff bracelet in aid of Noreen Fraser Foundation, a non-profit organization that aims to raise funds for and awareness of women's cancer. 
"I'm a survivor and I feel like we're empowered by that. I feel like it's something that made me a lot stronger and has, now that I'm out of it, really benefitted my life," Smulders explains.
Net proceeds from each bracelet sold through the entire month of October will be directed towards the Noreen Fraser Foundation.
While the bracelet was created to discuss a serious matter, Smulders made sure to enjoy the process of piecing it together.
"I'm very simplistic. I like jewelry that is small, that is a statement piece but with a delicate statement. I usually wear a lot of really thin gold bands and small studs. Nothing too big," she says of her own preference for accessories. "We started from a very simple place and started talking about women going through this process. Either they know somebody that's going through the process of having cancer or they have been affected by it themselves."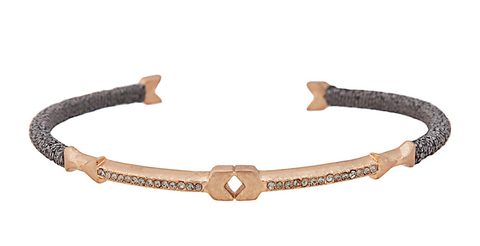 For Smulders, choosing to adorn the piece in rose gold and grey was obvious thanks to a simple love of both colors—but the bracelet's arrow-like design was given more thought. "I was like, what if we kind of did some sort of warrior? And so we incorporated some arrows into the design. Those two colors work together with the same kind of strength and courage and resilience."
The Resilience Cuff is available on Stella & Dot as of today.