Avon Actively Looking For An Investor
September 13, 2015
By Tina Williams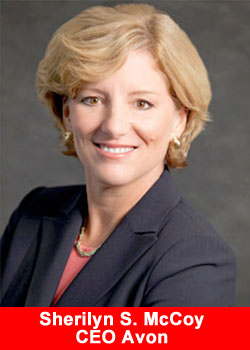 The Wall Street Journal reports: Avon Products Inc. is negotiating to sell a stake to a private-equity firm, a sign that the cosmetics purveyor has been unable to find a buyer for the entire company.
Thursday's news didn't go over well with Wall Street. Investors often frown on companies selling stock at depressed prices and diluting existing owners. Shares of Avon fell 9.5% to $4.10, and are now down 56% on the year. The stock has lost roughly 90% of its value from a 2004 high and the company has a market capitalization of less than $1.8 billion.
Avon is in talks about a stake sale with a number of private-equity firms, according to people familiar with the matter. They include Cerberus Capital Management LP and Platinum Equity LLC, which specialize in distressed investing, these people said. Bids are due next week. A stake sale is just one of the options Avon is currently considering, they added. Terms of any possible deal are unclear, and there is no guarantee one will materialize.
The New York-based company, which has been around for more than a century, has tried for years to reverse sales declines and stem an exodus of sales representatives. Its business of selling cosmetics and home goods door-to-door via a network of around six million active representatives has had difficulty keeping up with changing shopper habits, and Avon has been slow to increase sales via the Internet. The company posted a loss of nearly $400 million on $8.9 billion in sales last year. It has been cutting costs deeply and recently reported a small profit for its U.S. business, which has been particularly troubled.
In April, The Wall Street Journal reported that Avon was exploring strategic options, including a sale of the company or its North American business.
The type of deal the buyout firms are considering—known as a Private Investment in Public Equity—is sometimes used as a fallback option when a struggling company strikes out on a full sale. In 2014, for instance, shoemaker Crocs Inc. took a $200 million investment from Blackstone Group LP that gave the private-equity firm a 13% ownership stake in the ailing footwear maker. The investment came after Crocs abandoned an effort to sell itself.