Avon Named As One Of The Top 100 Companies For Working Mothers
September 28, 2015
By Tina Williams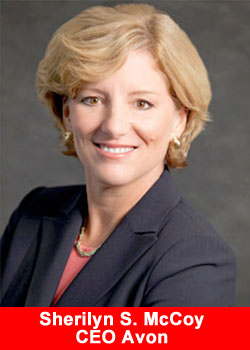 Avon Products, Inc. (NYSE: AVP) today was named as the only beauty company selected by Working Mother magazine in its annual survey of the 100 Best Companies for Working Mothers. This annual list recognizes companies that accommodate the needs of employees through a variety of family-friendly benefits and initiatives.
This year, Working Mother gave particular weight to three issues: flexible scheduling, advancement of women and childcare options. Avon is honored to have been selected for this prestigious list by Working Mother magazine, said Susan Kropf, president and chief operating officer at Avon. For 117 years Avon has lived by a set of principles that reflect our commitment to provide our associates the opportunity to better their lives and the lives of their families within a working environment of respect and trust.
And this listing reaffirms Avon's continuing commitment. Among corporate trends identified by Working Mother in this year's survey is the increase of company-paid time off to help employees manage family issues. Among the family-friendly benefits Avon was recognized for is its comprehensive adoption benefit policy, which parallels the company's maternity leave benefit. Avon associates who are primary care givers of adopted children receive eight weeks of paid leave at full pay. And, as with maternity leave, the adoption benefit also provides a phase back to work option to the primary care giver of an adopted child. Most notably, Avon will reimburse an associate for up to $10,000 of legal child adoption expenses per adopted child, including adoption agency fees and services and legal fees. When an employee's personal life runs smoothly, her productivity continues uninterrupted, said Jill Kirschenbaum, editor-in-chief at Working Mother.
These programs markedly cut absenteeism.
For years, Avon has been recognized among the best companies in a variety of categories including Fortune magazine 50 Best Companies for Minorities and Most Admired Companies list, Latina Style magazine 50 Best Companies for Latinas, Hispanic Magazine Corporate 100, ComputerWorld magazine 100 Best Places to Work, and Business Ethics magazine Top Ten Best Corporate Citizens. Further, the National Association for Female Executives has recognized Avon as the No. 1 company for female executives for five consecutive years. Working Mother magazine reaches more than 3 million readers and is the only national magazine for career-committed mothers.
Its 18-year signature initiative, 100 Best Companies for Working Mothers, is a benchmark for work/life practices in corporate America. The 2003 listing of the 100 Best Companies appears in the October issue on newsstands Tuesday and at www.workingmother.com. Avon is the world's leading direct seller of beauty and related products, with $6.2 billion in annual revenues. Avon markets to women in 143 countries through 3.9 million independent sales Representatives.
Avon product lines include such recognizable brand names as Avon Color, Anew, Skin-So-Soft, Advance Techniques Hair Care, Mark, beComing and Avon Wellness. Avon also markets an extensive line of fashion jewelry and apparel.