Direct Sales Growing In Popularity In Alabama
September 11, 2015
By Team Business For Home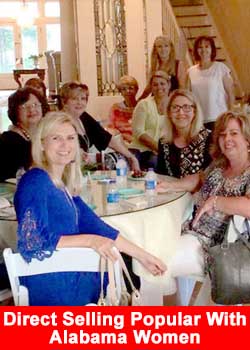 Alabama newspaper Eufaula Times talks to several women in the city of Eufaula who have chosen direct sales as a profession about its popularity and benefits.
As the cost of living increases, most people are looking for ways to add some extra cash to their financial outlook or they want out of the rat race for various reasons and would like to set their own hours. The most popular way to accomplish this, especially for women, is in the form of direct sales.
The profession of direct sales is growing and if you look up the definition of it, most websites, will tell you that it is the act of selling products away from a retail location (a storefront) and involves selling one-on-one to people from your home, door to door, or presenting and selling at a consumer's home in a party like setting.
While a majority of direct sales representatives only work part-time, direct selling still proves to be a sustainable and often profitable venture for those who want to work full-time like many of the local women who have turned to direct sales to help out financially. Most started out using the products they represent first, and then decided they wanted to sell them as a way to promote a product they believe in.
Sylvia Jones, a local Mary Kay Independent Beauty Consultant, said that direct sales has given her an opportunity to make professional connections and also new friends, all while earning some extra income to help support her family.
"Mary Kay is a God first, family second, career third company," Jones noted. "I like working for a company that reflects the values that I try to mirror for my children every day. When you are involved in direct sales, you are a small business owner. The enrichment of our local economies is important to me, plus Mary Kay products are American made."
Another local woman who has turned to direct sales for some extra income is Lauren Platte Phillips, an Independent Younique Presenter. Phillips said she loves owning her own Younique business because it allows her the opportunity to work from home, choose her own hours and dictate the time and effort she wants to put into her business, all on her own terms.
"Younique keeps things fresh, new and exciting by always adding new products to their cosmetics and skincare lines. I love their products," Phillips said. "I feel so empowered by this business."
Most people have heard about essential oils and local teacher Regina Robinson has represented Doterra Essential Oils since October of 2014.
"I joined to experience the benefits for my family," Robinson said recently. "I have sold products but moreover, my goal is to encourage more families to a healthier, all natural way of life. My goal was never profit when I signed on to sell."
Jacque Morris, who recently partnered with the Rodan + Fields Company to become an Executive Consultant, commented,
"When I started in direct sales I was looking to supplement my income and connect with other women. Once I realized the potential I had in direct sales, my goals changed toward leadership and long term growth.
"Two of the most successful names in skincare, Dr. Rodan and Dr. Fields, creators of Proactiv Solution have a proven track record." Morris noted. "They founded Rodan + Fields, offering transforming skincare products, which I have used for a few years.
"I have only worked with two direct sales companies. I made the change to Rodan + Fields because I saw that they offered a huge opportunity. The business model offers the potential for substantial income with a low start up cost. I also loved the idea of no inventory, because the ordered products are delivered directly to the customer.
"Direct selling benefits the community by bringing in tax revenue and the dollars that are spent from the individual earnings," she said. "It also helps stay at home moms get out of the house for some girl time, boosts individuals' self esteem as they succeed in their business and of course helps individuals and families that are struggling financially.

"There is a great sense of belonging that comes with direct selling." Morris said. "Teams play a huge role and the relationships created by them are priceless."