Forever Rich Founder Explains Network Marketing
September 12, 2015
By Team Business For Home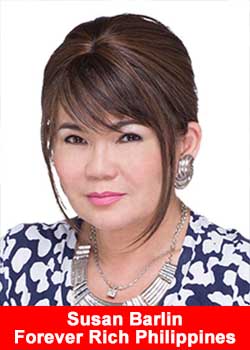 A successful real estate executive, now a networking guru, is encouraging Filipinos to improve their livelihood and health through a legitimate multi-level marketing business.
Susan Barlin was already based in the US when she discovered the healing effects of a food supplement called Laminine. She formed Forever Rich Philippines to share the health benefits of the product.
Barlin came back to the Philippines to promote the product locally. "This could be my final advocacy to help Filipinos get out from poverty. This company cannot promise you instant riches but if you believe in our products, that will be your way out from the hardship of life. This will also give OFWs an option for livelihood once they decided to come back to their families," she says.
"We have a long-term goal. That is why I want to call this my retirement venture. We have a vision, that's why we can certainly guarantee that this is a winning project for all those who believe and will believe in our products," she says.
Forever Rich has brought the benefits of the Laminine, an organic food supplement that works on a cellular level, to the Philippines. Laminine, the company's flagship product has the complete 22 amino acids and fibroblast growth factor 2, she says.
"Our second flagship product is the highly potent, Omega+++. It has the complete Omega 3, 6 and 9 combined with Vitamin K2 and CoQ10. If you have been using Omega supplements, try our Omega +++ to feel the difference," Barlin says.
The company is also introducing immune supplements that help boost immune system and digestive supplements to help the body absorb all the nutrients it is ingesting.
She says for those interested to join Forever Rich, a person needs only to buy one product and be a member. Despite the golden opportunity Forever Rich gives to people, networking has yet to recover from its bad reputation while many groups still use multi-level marketing to cheat people for easy money, she says.
"I know the stigma that goes with networking companies nowadays. I just want to drive home the fact, that unlike other MLM businesses that thrived on duping people into investing and then scooting away with their money, Forever Rich is a legitimate company with legitimate products that help promote riches and health," Barlin says.

"We want to emphasize that Forever Rich Philippines is one of the very few legitimate networking companies in the Philippines today," she says.
Barlin listed at least eight telltale signs to determine if a network marketing business is legitimate.
First, network marketing is not a "get-rich-quick scheme", she says. This means that network marketing may be very lucrative, but it is also a tough business. Right from the start, genuine businesses will show that the results happen only if you put in the time and effort.
"Any company that promises you an easy way to riches should be regarded with caution," says Barlin.
Second, direct selling companies deliver quality products or services. "Legitimate businesses sell high-quality products, such as the Bernard H. Mayer luxury watch collection while pyramid schemes have no legitimate products or services. Good direct selling companies dedicate substantial resources to research and development to create quality products that are of actual use to people," Barlin says.
Third, direct selling companies have restrictions in their compensation plan. While reputable direct selling companies limit the number of people who can earn a commission through sales to level the playing field for its members, in a pyramid scheme the "uplines" or the ones at the top make all the money, while the "downlines" or the ones at the bottom, lag behind due to late participation, she says.
Fourth, network marketers do not earn commission solely through recruitment. Recruiting new members is not a requirement for real network marketers to earn a commission, she says.
"The reason why is that legitimate companies are structured to reward people for promoting their products. If there is a commission for recruitment, it is also for sales of the company's products. In a pyramid scheme, there is no financial return unless others are successfully enrolled," she says.
Fifth, direct selling companies give their network marketers a return guarantee. Overstocking is not allowed, she says.
When dealing with inventory, representatives of legitimate direct selling companies are required to abide by rules and regulations. Product loading, or the excessive stocking of the company's products, is not allowed. This allows representatives to focus on networking, as they need not worry about clearing excessive stock, she says.
Sixth, network marketing opportunities have a solid training system.
"Direct selling companies place great emphasis on training their network marketers. Organizations like QNet have qualified trainers equipped with the expertise and experience to help their members better understand the business and products they sell," Barlin says.
They serve as mentors and motivators to grow the business.
Seventh, network marketing opportunities come with the support of business tools like training brochures that help network marketers better understand the products and how to sell them.
Barlin says a legitimate company helps its members keep track of purchases, commission earnings and the status of product deliveries, as well as full customer support. Other forms of support include regular product information releases, marketing materials and promotional offers.
Eighth, direct selling companies have proper policies and procedures, as well as ethical marketing codes.
"Carefully review the company's policies and procedures before making a decision. Genuine direct selling companies aim to achieve sustainable growth by fostering a culture of ethical marketing. Remember not to get carried away by promises of financial freedom and the fulfillment of life-long dreams. All network marketing does is provide you with a business model; it is still up to you to do the hard work," Barlin says.
At present, Forever Rich in cooperation with Lifepharm Global Network has established networks in Singapore, Indonesia, Vietnam, Malaysia, Brunei and Cambodia. It has also opened networks in some African countries, including South Africa, Sierra Leone, Nigeria, Kenya and Nairobi.
Established in the Philippines on March 2, 2012 Forever Rich now has 16 local branches nationwide.
Barlin says as a master distributor of various globally branded natural and functional breakthrough health products in the Philippines and other countries, Forever Rich has already over 100,000 members.
Forever Rich also created the "Be Alive" television show to broadcast testimonials of people whose lives got better, either financially or health-wise, because of its products.