Former Pro Football Player Puts Skin In The Visalus Weight-Loss Game
September 4, 2015
By Tina Williams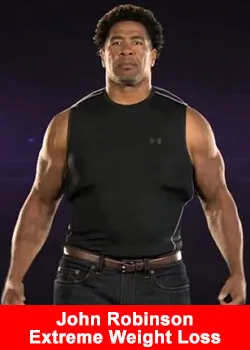 At 46, John Robinson weighed in at 531 lbs. ABC's Extreme Weight Loss gave him the opportunity to set and achieve major weight-loss goals. Read on to learn how he became a member of the 200-lb. Club.
A Dream Deferred
John was in the best shape of his life while he was part of the military and later during college. His weight gain started after he was injured playing professional football.
"I lost my dream at that point," says John. "My main focus in life was to become a professional athlete and I got that chance, briefly, but after my injury I stopped going to the gym. Depression set in."
John went on to become a surgical ICU nurse and now works with post op open heart patients at the VA hospital in Washington D.C. Despite working in the healthcare industry, John himself allowed his weight to tip the scales to the point where his health became jeopardized.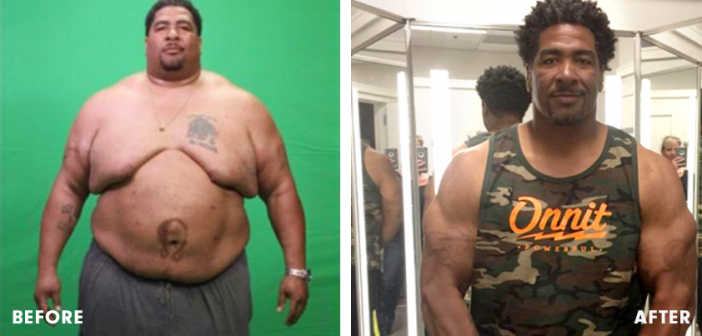 "My mother struggled with her weight and saw me struggle," says John. "It was her goal to see me lose, but unfortunately she passed before I could. I wish I could have dropped the weight earlier."
The Struggle is Real
Two and half years ago John found out he had another son. John invited his eldest, Anthony, to see him weigh in at the 90-day mark, where he'd dropped 125 lbs. Although meeting his son for the first time was the initial 'Why' that pushed him forward, John didn't have it in him to fight for the kind of transformation he needed to meet his ultimate weight-loss goal.
He was found out twice for not giving it 100% during his workouts, missing workouts altogether and eating fast food including a whole pizza. The former pro football player fell hard and was unable to continue with ABC's Extreme Weight Loss program.
But John dug deep and after eight months returned to the show at the final reveal having lost 90 additional lbs. on his own—bringing him down to 316 lbs.
"The Challenge, coupled with Vi products and a balanced diet, helped me push through the mental and physical obstacles standing between me and those last 90 lbs," says John.
John was using Vi products during his entire transformation journey. Some of his favorites include Vi Crunch®, Nutra-Cookies, ViSalus NEURO®, ViSalus GO® and NEON Energy Drink®—can you tell this guy is all hyped up on Vi? John started out on the Transformation Kit plus Vi-pak® and continues to drink two Vi-Shape® Shakes a day in addition to eating healthy meals and snacking smart.