Gregg Renfrew – CEO Beautycounter Interview
September 14, 2015
By Team Business For Home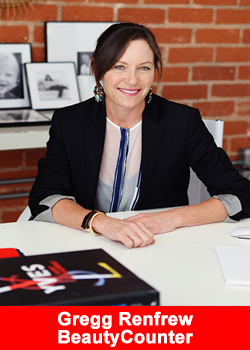 Gregg Renfrew launched Beautycounter in 2013, a B Corporation that's single-mindedly focused on creating transparency and safety in the personal care industry, through truly innovative skincare and beauty products that set a new health and safety standard.
Before launching Beautycounter, Gregg had already established herself as a retail leader. Gregg is regarded as a forward-thinking entrepreneur and trusted advisor who can turn concepts into thriving businesses; she sold her successful bridal registry company, The Wedding List, to Martha Stewart Living Omnimedia, where she served the company in executive management.
Gregg also served the legendary Best & Co. children's retail group as CEO, which she re-invigorated through design, traditional retail, and hundreds of national trunk shows. Gregg has led new concept, brand, marketing, merchandising and operations consulting engagements with Bergdorf Goodman, Goldie Hawn and Kate Hudson, Intermix, Lela Rose, and Jessica Alba, among other high-profile corporate and entertainment clients. After graduating from Miss Porter's School, Gregg attended the University of Vermont. She lives in Los Angeles with her husband and three children.
How has your life experience made you the leader you are today?
From very early on, my parents instilled in me that I could do anything I put my mind to. As a result, I was equipped to take risks and go after things I was passionate about. I am a serial entrepreneur–and truly believe I was born this way. However, having the self-confidence to believe in myself allowed me to take risks–and sometimes I was right and sometimes I was not.
It was due to these risks that I was able to grow and evolve as a businesswoman and a leader. I have been in several different types of cultures and organizations. These experiences have contributed to my growth and are one of the biggest factors I credit for my success.
How has your previous employment experience aided your position at Beautycounter?
Working with female focused businesses has really helped me get to where I am today. This includes my bridal registry company, The Wedding List that I sold to Martha Stewart Living Omnimedia, along with my role as CEO at Best & Co., a children's retail brand. I have also consulted high-profile corporate retail brands like Bergdorf Goodman, Intermix, and Lela Rose alongside entertainment clients including Goldie Hawn, Kate Hudson and Jessica Alba. I am keenly aware of the emotional message women feel in connection to a brand and am actively applying that message to what we are doing at Beautycounter.
I started Beautycounter because I wanted to create a safer and healthier place for my children, family, and ultimately everyone in the world. My decision to start a company was initially rooted in emotion, but being the serial entrepreneur that I am, it translated into an incredible vision for a business that is filling an existing void in the marketplace. Emotional risks are sometimes worth taking. Doing something you love and feel incredibly passionate about is what is going to drive you and what will make you bounce out of bed each day. I tell my team all the time that you have to have that drive and desire to want to come to work and make a difference.
How is Beautycounter shaking up the personal-care market?
The United States has not passed a federal law to regulate the ingredients used in personal care products since 1938. The European Union has spent the past two decades banning or restricting close to 1,400 ingredients while the U.S. has only banned 11 to date. We deserve better, and at Beautycounter we are doing something about it.
We have banned more than 1,500 ingredients, which is an entirely new health and safety standard in the industry– one we are incredibly proud of. We have worked hard to develop the most health protective ingredient screen while also ensuring our products perform and are beautiful. Equally important, we educate people about these issues and are inspiring a major shift in the personal care market toward safety, transparency and accountability. I truly believe change will be driven from consumer demand. Consumers have the power to demand a change in this market by voting with their wallets.
What have the highlights and challenges been during your tenure at Beautycounter?
The most impactful highlights have come from our customer's appreciation and feedback. I receive personal notes from both our Independent Consultants and clients about how our products are not only changing their skin, but more importantly their lives by providing more protection for themselves and their families. As a direct retail brand, we offer unique and powerful financial opportunities for women who join our mission as Beautycounter Consultants. I have really enjoyed seeing how our business model and this opportunity has empowered women.
Without federal regulation and set safety standards in the personal care and cosmetics industry, we decided to take responsibility and develop our own. Beautycounter goes ingredient by ingredient to test for safety and has developed the Beautycounter Ingredient Screen–the most health protective, comprehensive evaluation in the industry.
While it has been a challenging process to put these standards in place, this has been a huge win. We test our products on a quarterly basis and are setting a new standard. We've successfully married safety and performance in our products, and I am incredibly proud of that. We will always tell you exactly what is in our products so you can make an informed choice as to which products are the best ones for you.
While the development of our Ingredient Selection Process has been one of the biggest highlights, I would also say it has been one of the biggest challenges. We are creating something that does not currently exist in the marketplace, and when we started were a very small, new company. It was a challenge to find business partners who would join forces with us on this mission. We have been incredibly fortunate to build valuable relationships with labs and chemists, but it did not come easily. As we continue to develop new products, the challenge of meeting our safety and performance standards proves to be ongoing.
What advice can you offer women who want to start their own business?
It takes a big team effort. I could never have gotten through this without the solid support system at home of my children, parents, friends, and amazing husband, Mark. He and my children remind me every day that it is because of them that I work so very hard.
When you start a new business, you need to prepare yourself that it will require an incredible amount of work and commitment, and it will not happen overnight. It will take patience, dedication and perseverance to make it a success.
And be prepared to give up sleep.
How do you maintain a work/life balance?
I am not going to lie, finding balance is one of my biggest challenges. It is important to work for a company or a cause that ties back to the things that are important in your own life.
In launching Beautycounter, I created a product I whole-heartedly trust using on myself and my family. Having that peace of mind and working toward something that gives back to others has helped me find work/life balance. Because even through the stressful moments, I am able to keep the work I am doing in perspective.
However, I don't there is a perfect recipe. I try to wake up an hour before the rest of my house to have a little time for myself, whether that is to read, go for a hike, or snuggle with whichever child snuck into bed during the night. I will also spend that time getting my children's lunches ready and making sure their breakfast is made so I can it enjoy with them before the craziness of the day begins.
What do you think is the biggest issue for women in the workplace?
I think the biggest challenge for women is finding balance. Women are expected to not only be successful, focused career women and breadwinners, but to oversee and control the entire side of their domestic and personal lives. It is hard to find the time to successfully tackle both sides.
The other challenge is finding the strength to consistently stand up and fight for themselves in the workplace. Women can potentially be overlooked, under-paid and discredited. They need to have the confidence and strength to consistently stand up for themselves while supporting their value and contribution to organizations.
How has mentorship made a difference in your professional and personal life?
Before launching Beautycounter, I spent many years in consumer-centric businesses and met amazing people from a variety of industries. I look at networking and mentorship as an opportunity to develop connections, learn about new experiences, and find unique ways of approaching business and life. You never know when relationships are going to come into play, and it is important to always help people when you can.
When I was thinking about launching Beautycounter, my first phone call was to my dear friend Patrick Davis, the Founder and Head Partner of Davis Brand Capital. Over the past 15 years, he has provided sound advice within the areas of Branding and Marketing, but has also been an invaluable sounding board and resource to help me work through some of the biggest challenges in my career.
Which other female leaders do you admire and why?
I think Sheryl Sandberg is an incredible businesswoman. Regardless of any polarizing press she has received, I whole-heartedly agree the world would be a better place if there were more female CEOs.
Stacy Malkin wrote the first book I ever read about the beauty industry – Not Just a Pretty Face. It changed my life and made me even more dedicated and passionate about the mission we are on at Beautycounter to get safe products into the hands of everyone.
What do you want Beautycounter to accomplish in the next five years?
Over the next five years, we will continue to get safe products in the hands of everyone.
We believe consumers are the most effective agents of change. When consumers demand more from companies, businesses are forced to respond and do better. Lack of awareness on this issue is one of the biggest road-blocks. We are committed to raising awareness and empowering consumers through the education about the potential health implications that stem from exposure to toxic chemicals. Our ultimate goal is to inspire a shift in the personal care and cosmetics industry toward increased transparency, stricter testing and regulation.
Originally Published here.