GWT & Feri Designer Lines Unveils Major Expansion
September 20, 2015
By Team Business For Home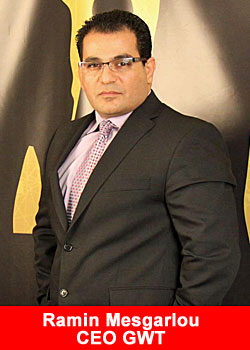 GWT CORP & FERI DESIGNER LINES UNVEILS MAJOR EXPANSION OF FASHION & LUXURY COLLECTIONS INTO A COMPLETE LIFESTYLE BRAND
(Ontario, Canada) – FERI DESIGNER LINES, a subsidiary of Global Wealth Trade (GWT), announced its bid to expand its various luxury collections and evolving them into a total lifestyle brand.
This bold move, kicked off by the recent introduction of an upscale footwear collection for women and men, is in line with GWT founder Ramin Mesgarlou's long-term vision for FERI Designer Lines, which today already offers impeccably handcrafted handbags and wallets, precision timepieces, optical and sunglasses, opulent Sterling and Gold jewelry and soon to be released prestige grade fragrances, color cosmetics and anti aging skin care lines.
Industry observers and analysts are expressing enthusiastic anticipation over how the company is raising its stakes in the fashion market with a strategically implemented roll out of new products and increased coverage across top sales territories in North America, Europe, Africa, parts of Asia and Australia.
Ramin, who hails from a family of distinguished jewelers since the late 1800s, initially launched GWT as a line of exquisite fine Sterling and Gold jewelry. The immediate success of that debut collection prompted the entrepreneur to gradually introduce new merchandise catering specifically to a rarefied segment of shoppers.
His extensive experience in the luxury market was a perfect fit in being able to provide the kind of refined fashions and superior quality sought by discriminating clients with the ultimate goal of developing FERI Designer Lines into an all-encompassing and prestigious lifestyle brand.
Ramin Mesarlou says:
"In our effort to deliver a level of excellence that our clients have come to expect from the brand, we were very deliberate in bringing out each collection after very careful development and planning. Now we're at a point where our design and manufacturing capabilities are among the finest in the luxury category.
Although luxury was the initial focus for GWT, today our 1400+ designs are the most diverse in price point and in design in the fashion industry. Our super fashionable POSH line up ranges from $20 – $200, our luxury line FERI ranges from $300 to $3000 and our Prestige collection FERI MOSH caters to affluent clientele who have very exacting tastes and standards and we aim to provide an array of products that specifically cater to their entire lifestyles."
The entire GWT Fashion collections are available on line and by appointment with one of their 15,000+ Luxury Consultants in all continents.
Ramin says:
"GWT offers a real online and in home business with massive residual and retail profits potential.
Our consultant retention and monthly activity rations are unprecedented in the industry so our aim from inception wasn't to have 100,000 distributors with only 10,000 actively building their businesses like other MLMs, our aim was to have 10,000 Luxury Consultants with an army of VIP clients buying and selling like a work force of 100,000 distributors and that is exactly what we have done over the past decade.
Our retail focused, industry leading VIP program offers the most aggressive client reward program ever offered with up to 10% credit rebate back to the customer hence we have 38,000 retail VIP clients. GWT's 2 – 1 consultants' vs. the clients' ratio is also unprecedented in the industry and the main reason why we are creating the fastest millionaires in MLM thus far.

ABOUT GLOBAL WEALTH TRADE Corp
Global Wealth Trade Corporation is the premier manufacturing and marketing company of fashion and luxury products under the brand FERI Designer Lines sold exclusively through its team of GWT Luxury Consultants.
Founded in 2005 by Ramin Mesgarlou, GWT is the embodiment of his dedication to fine quality merchandise, having descended from a renowned family of jewelers since the late 1800s. GWT's success has been marked by several trade and business awards, scores of media accolades as well as posting impressive annual growth for products sold in over 94 countries worldwide. It continues to develop new collections and products as bestsellers in the fashion and luxury markets. For more infor please visit www.gwtcorp.com