Jeunesse Announces Newly Appointed Vice President Of North America
September 22, 2015
By Tina Williams
Jeunesse Global, leading provider of cutting-edge youth enhancement skincare and nutrition products within the direct selling industry, is pleased to announce new Vice President of North America, Katy Holt-Larsen.
Katy brings to the company more than 20 years of experience in organizational leadership, product strategy, sustainable growth and sales, marketing, and distributor relations. She has led the development and execution of business strategy, corporate culture, knowledge
management, and leadership development solutions for high-tech Fortune 500 companies around the world.
Katy's industry experience began when she and her husband became distributors themselves. This experience gave her an appreciation for having the courage to live your dream, pursue multiple streams of income, and manage the day-to-day aspects of growing a business while raising a family. Katy's ability to inspire vision and build trust cultivates high-performing teams and business growth.

"I look forward to contributing to the growth and success of this remarkable company and its passionate distributors. It is a privilege to work with them and support their efforts," said Katy Holt-Larsen.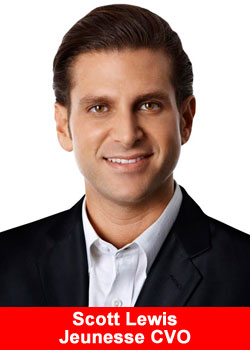 Chief Visionary Officer Scott Lewis commented, "As Vice President of North America, Katy will fulfill a key role for the region and will provide fundamental field support to our customers and distributors assisting them in achieving their goals, as well as strategic collaboration on how to further drive productivity in the region. We welcome her to the Jeunesse family and look forward to seeing continued growth and development in this key market."
About Jeunesse
Jeunesse is a leading direct selling company devoted to encouraging healthy living. Company research focuses on adult stem cell science, telomere support, DNA repair, fat loss technology and nutrigenomics. Products are made in the USA and are exclusively formulated for Jeunesse. With a multilingual customer service, back office support team, global enrollment system and in-house programming already in place, the company is fully operational in 32 offices around the world.
Its distribution channels extend to over 100 countries. Jeunesse and the Jeunesse logo are registered trademarks of Jeunesse Global, LLC in the U.S. and/or other countries. For more information, please visit www.jeunesseglobal.com.
Follow Jeunesse on Facebook or Twitter
facebook.com/JeunesseHQ
twitter.com/JeunesseHQ
Source: Jeunesse