LifeVantage Presents True Science Skincare Regimen at IFSCC Conference
September 25, 2015
By Team Business For Home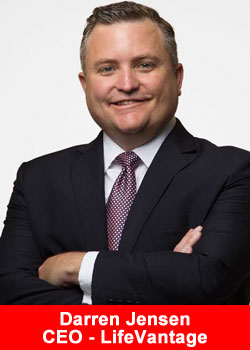 LifeVantage Corporation, announced today that Nathalie Chevreau, PhD, Senior Vice President of Research and Development, presented two poster abstracts describing the innovative aspects of TrueScience skin care regimen at the 2015 International Federation of Societies of Cosmetic Chemists Conference in Zurich, Switzerland.
Dr. Chevreau presented the anti-aging effect of the TrueScience skin care regimen through gene modulation in the skin layers, as well as a treatment of intrinsic and extrinsic aging. Visible and measurable clinical outcomes can be attributed to the unique Nrf2 ingredients extensive anti-aging efficacy and reversal of cellular stress and DNA damage.
The International Federation of Societies of Cosmetic Chemists (IFSCC) is a worldwide federation dedicated to international cooperation in cosmetic science and technology. Currently 47 Societies representing 57 countries are members. Individual membership now exceeds 15,000.
"IFSCC is the highest platform to present scientific findings in cosmetic science," said Dr. Chevreau. "The TrueScience skin care regimen uniquely demonstrates the benefit of Nrf2 technology to protect the skin from oxidative stress. This is a fantastic invitation for LifeVantage to step onto the world stage as the leader in anti-aging skin care and cellular stress protection."
About LifeVantage Corporation
LifeVantage Corporation (Nasdaq: LFVN), is a science based network marketing company dedicated to visionary science that looks to transform health, wellness and anti-aging internally and externally at the cellular level. The company is the maker of Protandim®, the Nrf2 Synergizer® patented dietary supplement, the TrueScience™ Anti-Aging Skin Care Regimen, Canine Health, and the AXIO™ energy product line. LifeVantage was founded in 2003 and is headquartered in Salt Lake City, Utah.