Talk Fusion Awards First New Mercedes Car Incentive At Hero Event
September 17, 2015
By Nicole Dunkley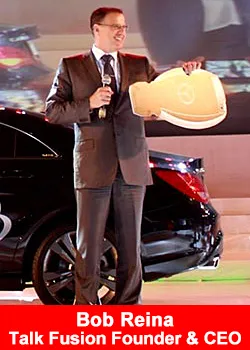 The yearly Luxury Car Parade through the streets of Surabaya signifies the beginning of the annual HERO 2015 Event weekend, sponsored by the leadership team of Talk Fusion Independent Associates in Indonesia.
This year nearly 50 sports and luxury cars, each emblazoned with the Talk Fusion logo, took part in the hour long drive through the heart of the city. Lamborghinis, Mercedes-Benzes, BMWs, Porsches, and Ferraris, complete with police escort, followed the lead Hummer stretch limousine in a parade that turned heads and announced that Talk Fusion was in town.
The excitement of the mile long Luxury Car Parade proved to be just the beginning of the spectacle to follow. A packed convention center filled with thousands of cheering Associates was the setting for the first Mercedes Madness Car Purchase awards.
Talk Fusion Founder & CEO Bob Reina has long held the philosophy that "what gets rewarded, gets repeated." This year Talk Fusion added even more incentives to their Instant Pay Compensation Plan, including the Mercedes Madness Car Purchase: when an Associate qualifies, Talk Fusion buys them a brand new Mercedes-Benz.
The industrious, diligent hosts of the event were the first recipients: Grand Blue Diamonds Marselinus Halim, along with Mario Halim and Ryani Irawan. They were followed by Blue Diamonds Septian Suryawirawan and Andre Winata. Each of them drove their brand-new Mercedes-Benz off the main HERO stage to the roaring approval of the crowd, a testament to the long hours and dedication they devoted to their Talk Fusion business.
https://www.youtube.com/watch?v=Ao2wxN1HQQ4
These types of awards and events are more than just appreciation for Associates reaching impressive milestones. They are just as important to the other Associates in the crowd watching the proceedings and cheering on their fellows. "When people can see other people just like them up on stage getting awards, praise and recognition," said Bob Reina, "it is more important than words can say. I can tell you that events make the business move from your head to your heart. It absolutely cements your belief in the company and the support team behind them."
Talk Fusion operates in over 140 countries and the Mercedes Madness Incentive Program is available in every one of them. It's a powerful goal for Associates to strive for as they share Talk Fusion's industry-exclusive video communication products with Customers and grow and train their own Associate teams.
View a photo gallery of the Luxury Car Parade and the Mercedes Madness Awards from HERO 2015 here.

ABOUT TALK FUSION
A trend-setting industry leader, Talk Fusion has been connecting people around the world since 2007 through cutting-edge video technology for social and business communication. Talk Fusion's innovative video products are marketed person-to-person by independent Associates in more than 140 countries, empowering them to earn the financial freedom to live their dreams.
Founded in 2007 by CEO Bob Reina, Talk Fusion introduced the world's first Instant Pay Compensation Plan. Talk Fusion adheres to the highest ethical business practices and is a member of the prestigious Direct Selling Association (DSA). Reina firmly believes that "with great success comes greater responsibility."
Talk Fusion fosters a strong commitment to giving back to friends, family, communities, and animal charities across the world to produce a positive global change. Learn more at www.TalkFusion.com and "Like" Talk Fusion at www.facebook.com/TalkFusion.
Income Disclaimer:
Any earnings portrayed in any Talk Fusion marketing materials are not necessarily representative of the income, if any, that a Talk Fusion Associate can or will earn through his or her participation in the Talk Fusion Instant Pay Compensation Plan. All references to income, implied or stated, throughout the Talk Fusion Instant Pay Compensation Plan are for illustrative purposes only. These figures should not be considered as guarantees or projections of your actual earnings or profits. Talk Fusion does NOT guarantee any level of income or earnings to any Associate; any representation or guarantee of earnings would be misleading. The purchase of a Talk Fusion Product Package is completely optional and is not required for an Associate to participate in the Talk Fusion Instant Pay Compensation Plan.