The Carlyle Group To Acquire Blyth In $98 Million Deal
September 1, 2015
By Tina Williams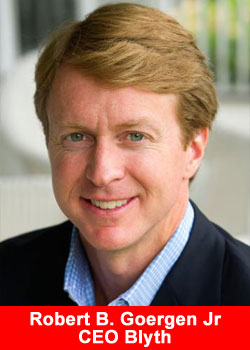 The Carlyle Group (NASDAQ: CG) and Blyth, Inc. (NYSE: BTH), a direct-to-consumer manufacturer and seller of candles and home fragrance products, today announced they have entered into a definitive agreement under which The Carlyle Group will acquire all of Blyth's outstanding shares of common stock in a transaction valuing Blyth at $98 million, equating to $6.00 per share, which represents a premium of approximately 105 percent over the closing price of Blyth common stock on Friday, August 28, 2015 and a premium of 65 percent over Blyth's 30-day average share price as of such date.
The transaction has been unanimously approved by Blyth's board of directors and will be completed by means of a tender offer followed by a merger.
Under the terms of the definitive agreement, an affiliate of The Carlyle Group will commence a tender offer for all of Blyth's outstanding shares of common stock at $6.00 per share in cash. The tender offer is conditioned on Blyth's stockholders tendering at least a majority of Blyth's outstanding shares in the tender offer, early termination or expiration of the waiting period under the Hart-Scott-Rodino Antitrust Improvements Act and other customary closing conditions. The acquisition is expected to close in the fourth quarter of 2015. The financing for the transaction will come from Carlyle Equity Opportunity Fund, a $1.1 billion U.S. middle-market buyout fund. Robert B. Goergen, Blyth's Chairman of the Board, and Robert B. Goergen, Jr., Blyth's President and Chief Executive Officer, who beneficially own approximately 38% of Blyth's outstanding shares of common stock, have committed to support the tender offer.
Carlyle Managing Director David Stonehill said, Blyth is a pioneer in home fragrance with well established brands and extreme customer loyalty. We expect Carlyle's deep experience in global consumer businesses will help drive Blyth's product innovation and growth goals. We are particularly impressed with PartyLite's network of 40,000 independent consultants who have remarkable passion for the company's products. We are excited to support their efforts as we grow the company together.
Blyth CEO Robert B. Goergen, Jr. said, This is an important day in Blyth's 40-year history. Carlyle understands what our team has accomplished and supports our vision for the future. Building on our strong consumer relationships, Carlyle, with its proven track record of growing companies, is the right partner to take PartyLite and Silver Star Brands to the next level of creativity and global growth.
The Goergen family has controlled Blyth for nearly 40 years. The company, based in Greenwich, Connecticut, includes PartyLite and Silver Star Brands. PartyLite products, available in 23 countries, include candles, candle holders, flameless fragrance and wax warmers, as well as holiday and home décor. Silver Star Brands is a direct marketer of consumer gifts and household products.
Threadstone Advisors, White & Case and PricewaterhouseCoopers are acting as advisors to Carlyle. Houlihan Lokey and Wachtell, Lipton, Rosen & Katz are acting as advisors to Blyth.
Carlyle's U.S. middle market team has invested in Philadelphia Energy Solutions, the largest refinery on the eastern seaboard; Service King, one of the largest automotive collision repair centers in the U.S.; ECi Software Solutions, a provider of industry-specific technology; Traxys Group, a financial and logistical provider in the mining industry; AxleTech International Holdings, Inc., a manufacturer of automotive supplies; and PrimeSport, a global sports travel and events-management company.