Tyra Banks On Her New MLM Beauty Business
September 18, 2015
By Team Business For Home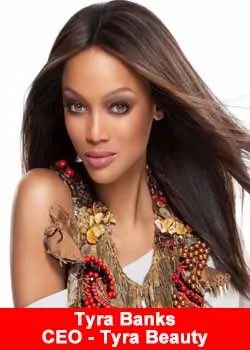 She is an entrepreneur in every sense of the word — a supermodel who turned her success on the runway into an international empire worth $90 million.
Tyra Banks, 41, has taken the world by storm and accomplished quite a bit in her life. She was the first black woman to appear on the cover of GQ Magazine and Sports Illustrated swimsuit edition, as well as the first African-American woman to be featured in Victoria's Secret lingerie catalog.
She might be best known as one of the first Victoria's Secret Angels and the host of long-running reality competition show America's Next Top Model, but Banks has proven she is much more than a pretty face gracing magazine covers, catwalks, big screens and red carpets.
"The smartest business decision I ever made was retiring from modeling and doing it in a big way," said Banks.
"I love Victoria's Secret," she explained. "They've done so much for me. But I felt like I couldn't be posing in my panties and telling a girl about self-esteem or teaching women how to lead their futures."
Banks decision to quit modeling was very bold move at that time her career, when her talk show The Tyra Banks Show and America's Next Top Model had not been renewed yet.
"Here I am putting all of my eggs into this basket not knowing if I had a true future with this new television production and producing and hosting," she said.
But so often with risk takers, their decisions pay off. In Tyra's case, it was a slam dunk.
America's Next Top Model is in its 22nd cycle, her new daytime talk show Fablife just launched this month on ABC and she has a direct selling cosmetics start-up called Tyra Beauty to empower women to be their own CEOs.
"They can sign up and they can sell Tyra Beauty and make money," Tyra explained.
Banks explained she is passionate about two things: beauty and business. She combined the words beauty and entertainment to come up with the name for the Tyra Beauty sellers, beautytainers.
"It's really important for me to empower people, particularly women to have financial freedom, because my mom she stayed with my dad way too long and she always says it's because she didn't have her own money and that inspires me," said Banks.