WOR(l)D Global Network Expands To India And Is Immediately A Great Success
September 10, 2015
By Tina Williams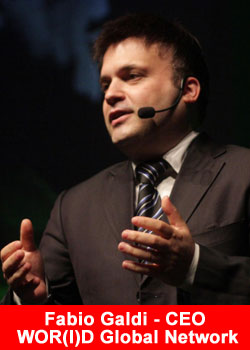 World Global Network recently annouced: During the Diamond Life Tour event of July, in Istanbul, Fabio Galdi, CEO and President of WOR(l)D Global Network has announced: WGN is expanding to India and it will certainly be something to marvel at.
And so the first results are proof of that;
Only 15 days after the start of the pre-launch phase, during the opening of their WGN office in Channai, the company has reached a total of almost 50,000 consultants, registered and waiting for the official sale of their exclusive products: SpaceStation, the first Micro Cell in the world capable of radiating the mCell 5G signal, and the SpacePhone, the first smartphone with mCell 5G technology.
CEO Fabio Galdi has confirmed that he is very pleased with their beginning results, but he is certainly not completely satisfied: their clearly stated goal is to reach a staggering figure of 100,000 consultants by the end of September, ready to conquer the Indian market. Thus welcoming the WOR(l)D opportunity in an extraordinary way, confirming the company as one of the most innovative network marketing companies in the world for research and development of new technologies. As well as being included among those who are experiencing the best momentum in the world.
Asia is thus about to become a new key market for the WOR(l)D Global Network, which once again confirms its spectacular growth at the worldwide level.
About WOR(l)D GN
WOR(l)D also referred to as World GN is a global multi million dollar company that offers services in the telecommunications, renewable energy, technology and mobile Telecommunication.
Its current headquarters is in the United States with its major offices in the United States, United Kingdom, Russia, Moscow, Ireland, China and Singapore.
For more information please visit www.worldgn.com