Zija Founder Receives Award From Alma Mater
September 25, 2015
By Nicole Dunkley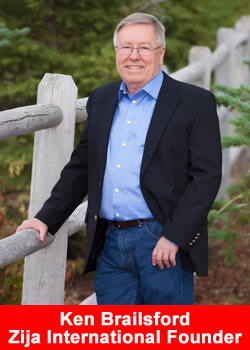 Zija International Founder Ken Brailsford was recently presented with the Outstanding Alumni Award from Utah Valley University, where he was once a student. Now he watches with enthusiasm as buildings are added and enrollment numbers increase. Below is the article that was published in the university's official magazine; you can also view the digital copy HERE:
Lead, follow, or get out of the way. This motto has guided Ken Brailsford throughout his extraordinary journey as a student, commissioned Army officer, and entrepreneur. "I don't mind following, and I don't mind leading," says Brailsford, who is this year's recipient of Utah Valley University's Outstanding Alumni Award. "I can do either-I just want to be moving forward." And moving forward is what Brailsford has done his entire life.
After earning a degree in economics from Brigham Young University, getting married, and serving a stint in the Army during the Vietnam War (the war was winding down, so he stayed stateside the entire time), Brailsford returned to Utah.
He started a business with family members, and although he already had a degree, he decided to put his GI bill to good use by attending UVU (then Utah Valley Community College). "The classes, the instructors, the whole experience was positive," Brailsford recalls. "The education available at UVU is as good—or better—than any place. I've watched with enthusiasm as buildings have been added and enrollment numbers have gone up. The University is very needed in the valley and in the state."
Within a few years, the family business—Nature's Sunshine, the first nutritional supplement company to encapsulate herbs—became so successful that it demanded his entire attention. However, while his time in brick-and-mortar classrooms ended, his education continued.
"In addition to pioneering the idea of encapsulation, we were also one of only a handful of MLM companies at the time," says Brailsford, who served as company president and earned the title "Father of Encapsulation." I had to learn everything on my own, with some valuable tutoring from our top distributors."
After leaving Nature's Sunshine in 1970, Brailsford repeated his pattern of success with two more MLM companies; he is currently the founder, chairman of the board, and CEO for Zija International in Lehi, Utah. In addition, Brailsford has played a key role in investing in and leading several local companies hovering on the brink of bankruptcy out of danger. "I enjoy saving companies and saving jobs," says Brailsford, who watches "Shark Tank" and acknowledges the similarities, on smaller scale, between the reality TV show and his real life.
"I definitely want to help people succeed, "he continues. "You have to go with your gut and trust the people you're investing in, but it's incredibly rewarding when you are able to make a difference."
See the official announcement of his award HERE.
ABOUT ZIJA INTERNATIONAL
Zija International, a privately held and privately funded business founded and led by Kenneth E. Brailsford, develops natural health, wellness, nutrition and fitness products. The company operates in more than 50 countries worldwide.
Zija has seen consistent growth every year since it was founded over 9 years ago and was recently named the "Fastest-Growing Company in Utah" by Utah Business Magazine. It has also been recognized on fastest-growing and top-revenue lists by Inc. Magazine, Direct Selling News, and Utah Valley Magazine, to name a few.
With corporate offices located in Lehi and more than 4 million sq. ft. of state-of-the-art warehouse, shipping and manufacturing facilities located in Utah, United States, Zija International employs more than 200 individuals and has the capacity to grow to more than two billion dollars in annual sales.