4Life Indonesia Celebrates Fourth Anniversary
October 21, 2015
By Nicole Dunkley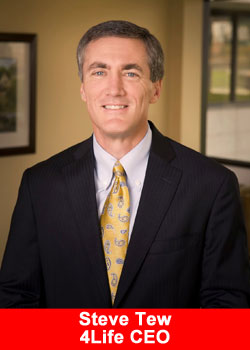 President & CEO Steve Tew gathered with distributors at the Kasablanka Hall in Jakarta for a fourth anniversary celebration and national convention. The event attracted over 800 attendees and centered around the event theme, "Bring Dreams Home."
The celebration included recognition of new Platinum International Diamonds Dr. Eduard Hutabarat and Katharina Sihombing and the launch of NutraStart® Vanilla.
Platinum International Diamonds Sadik Din, Dr. Jase Khyeam, and Sheri Din gave business-building talks. 4Life Service Director Tracie Kay shared information about the Foundation 4Life® partnership with the SOS Children's Village. Steve Tew's presentation focused on the company's new manufacturing facility.
Gold International Diamonds onsite included Leo Gito Simbara Ujung & Desiree Hellene, Agung Dwija Saputra, Mustafa Debu, Ahmad Kurnia Wibawa & Ratu Kotrunnada, Ramos Sahala Sihombing, Mas Ryandi & Kenny Kanita, Christin & Agus Soemarsono, Rasid Kamisan, Salim Raghavan & Noor Azlina, and Ridwan Sadik & Nur Atiqah Suhaimi.
Additional 4Life corporate representatives at the event included Vice President of Southeast Asia Michael Seet and Scientific & Regulatory Affairs Director Paula Brock, PhD, MSCI. Indonesia opened as the company's 21st international market in June of 2011.
Steve Tew: "I am amazed by Indonesia's tremendous growth including the rank advancement of four new Gold International Diamonds and one Platinum International Diamond. This year, Indonesia has become the second highest international market in record sales after South Korea. It was my pleasure to attend this anniversary event. I congratulate everyone who is making a difference in the lives of others.
4Life has offices on five continents to serve a global network of independent distributors through science, success, and service.