Ambit Energy Offers Sunrun Solar Service To Customers
October 22, 2015
By Team Business For Home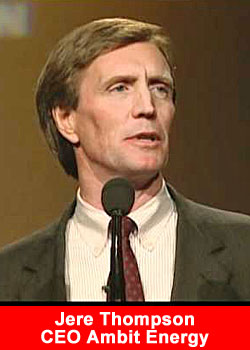 Ambit Energy, the world's largest direct seller of energy and a leading national retail energy provider, today announced Sunrun solar service is now available to its new and existing customers in California, Massachusetts, New York and New Jersey. The partnership between Ambit and Sunrun (RUN), the largest dedicated residential solar company in the United States, was announced in early 2015. It is designed to expand the adoption of residential solar to Ambit's more than 1.3 million customers.
"We strive to help our customers save money, and by partnering with the largest dedicated residential solar energy provider, we can offer a guaranteed rate that is locked in for 20 years," said Jere Thompson, Jr., co-founder and CEO of Ambit Energy. "With the growing awareness of the need for solar energy, our customers will be able to use green solutions that meet and even exceed their needs."
With Sunrun's solar as a service model, Ambit customers can save an average of 20 percent on their electric bill. Sunrun takes care of the installation, financing, insurance monitoring and maintenance of the solar panels.
"With tens of thousands of Ambit Consultants across the country, homeowners will have even more opportunities to learn about the benefits of solar," said Matthew Woods, senior vice president of partners at Sunrun. "We welcome Ambit's consultants to the Sunrun network and look forward to them helping Sunrun grow our customer base, and Sunrun helping them provide additional benefits to their customers."