Belcorp Named A World's Top Multinational Place To Work
October 14, 2015
By Nicole Dunkley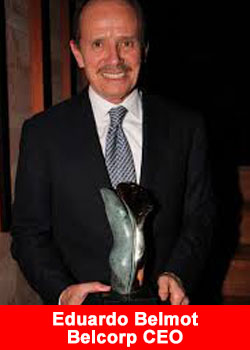 Peruvian beauty giant Belcorp appears alongside household names such as Microsoft, American Express and Marriottt in a new ranking of the World's Best Multinational Workplaces.
Great Place to Work, a global research and consulting firm, surveyed employees and management to discover the priorities of today's worker and identify the top 25 multinational companies.
In its second consecutive year on the list, Belcorp landed the No. 12 spot. The company employs more than 10,000 at its headquarters in Lima, Peru, and in seven additional markets across Latin America. Belcorp also has signed on more than 850,000 independent sellers, called Beauty Advisors, to market its cosmetics, fragrance and skincare products.
For consideration as a World's Best Multinational Workplace, companies must appear on at least five national Best Workplaces lists and have at least 5,000 employees worldwide. Additionally, at least 40 percent of the company's workforce must be based outside its home country. The 2015 World's Best, led by No. 1-ranked Google, represent 236 subsidiaries across 47 countries.
According to a report accompanying the list, two primary characteristics distinguish this year's leaders from the rest. The first is employee pride—both in where one works and in the work accomplished, as well as the impact that work has on the community. Employees also prioritized the sense of camaraderie created by a fun, familial workplace.
About Belcorp
Belcorp is the 3rd largest beauty company in Latin America and 9th largest direct seller in the world. A family-owned company with a 47-year history, and headed by founder Eduardo Belmont. Today our network of Beauty Advisors numbers almost a million.