Biotech Expert Joins ARIIX Wellness Council
October 10, 2015
By Team Business For Home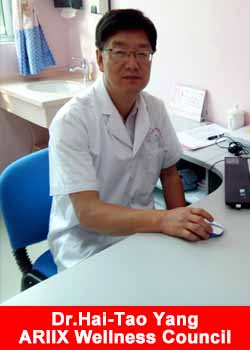 ARIIX, the opportunity company, announced today that Dr. Hai-Tao Yang is now the newest member of the ARIIX Wellness Council. Dr. Hai-Tao Yang is an expert in Biotechnology and Genetics Counseling with extensive experience in the fields of biotechnology research, genetics, and genomics.
The ARIIX Wellness Council is comprised of individuals who are renowned experts in their perspective fields, bringing a wealth of combined knowledge and experience that continue to shape the future of ARIIX's premium stand alone brands. According to Dr. Yang, he is very excited to promote healthy living in Southern China through this new partnership. As a member of ARIIX's global Wellness Council, he will ultimately help guide the entire industry of network marketing toward a more health-conscious future.
After completing medical school at Northwestern University School for Minorities in Lanshou, China, Dr. Yang continued his education at Peking University in Beijing, China, receiving a Master of Science in microbiology and molecular virology. Most recently, Dr. Yang also received a Ph.D. in medical genetics at Uppsala University in Uppsala, Sweden. ARIIX looks forward to working closely with Dr. Yang and knows he will be a key figure in our Wellness Council with his very comprehensive skill set and education.
"We couldn't be more excited to have Dr. Yang join the ARIIX Wellness Council. With so much knowledge and experience in several health fields, we know this will be a great relationship," says Deanna Latson, Chief Product Officer and Founder of ARIIX. "He is dedicated to improving health worldwide, especially in his home of Southern China. We look forward to working with him to achieve that goal."