Direct Sales Growing In Midwest America
October 7, 2015
By Team Business For Home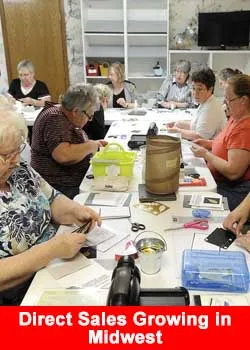 Sonya Eckel is one of the best in the country at her job. Eckel, a Sioux Falls mother of four, is one of the top-selling Norwex independent consultants nationwide.
She has been selling the chemical-free cleaning products for six years since she became a stay-at-home mom.
"I just saw the opportunity and the potential," she said. "It took me really fast into a full-time income."
Other area direct sellers also are finding the perks of earning extra income, having flexible schedules and connecting with others who share the same passion. The number of people becoming involved in the direct sales industry has increased in recent years, and sales are climbing, too.
More than 18 million people were involved in direct selling nationwide in 2014, with estimated sales reaching $34.5 billion, a 5.5 percent increase from 2013, according to the Direct Selling Association. The direct sales channel continues to experience steady growth, as more individuals generated more revenue in 2014 than any year previously. DSA estimates there are 1,400 companies in business in the U.S. at any given time, with products spanning from cosmetics and jewelry to wellness and insurance.
Meet top sellers
Eckel's team-based sales have made her one of Norwex's top U.S. leaders. She averaged more than $200 a month when she started selling the products. Today, she earns a solid six-figure annual income.
"It's an incredible industry and opportunity," Eckel said. "We also get to build that legacy, and it puts you in control of your future."
Susan Nygaard, an independent consultant for Stampin' Up in Sioux Falls, is the eighth person to achieve $1 million in sales in the company's 27-year history. Independent consultant Lisa Fast, who is also from Sioux Falls, was the second person to reach that milestone within the company.
"There's something about this area and women in direct sales," Nygaard said.
The rubber stamp and crafting supply company has more than 900 independent demonstrators in South Dakota.
Nygaard, a pharmacist at Sanford USD Medical Center, has been a demonstrator for Stampin' Up for 18 years. When she was invited to her first stamping party by a co-worker, she told her she didn't need another hobby and wasn't interested; however, that night she ended up deciding to sell.
"At the time, I was looking for a creative outlet," she said. "I was somehow looking for something interesting and wanted to express myself."
She started off slowly, earning $100 to $150 per month. Today, Nygaard averages $2,500 to $3,000 monthly.
"You just have to motivate yourself and decide to commit to it," she said. "You have to make an effort to engage people, and you need to take the time and effort to do that."
Keys to success
Many direct-selling companies such as Stampin' Up are multilevel marketing companies, meaning compensation is based not only on a person's sales but on the sales of others that the person has recruited.
"As soon as your customer base starts to grow … that's when you become more successful," Nygaard said.
Many people who are successful in direct sales are able to generate a lot of their sales over the Internet. Some Stampin' Up demonstrators have blogs and post several pictures, Nygaard said.
"You have to be very passionate about your product and what you are selling."
Paul Skowronek, senior vice president of public affairs for DSA, credits technology and social media for driving more opportunities for independent work and an influx of independent consultants since the end of the recession.
"Technology has made it that much more attractive and easier for people to reach markets and for people to reach other people," he said. "It has given direct-selling consultants more leeway and new ways to attract new customers."
Nygaard cautions people who are interested in direct selling that it is not a "get-rich-quick scheme."
"It's something you need to build your customer base over time," she said. "It's taken 18 years. It's not an overnight sensation. It takes time and effort to get your message across."
Finding a mentor willing to invest the time in a new representative is essential, Eckel said.
"That makes a big difference in direct sales, finding someone who can support you, so you're not reinventing the wheel along the way."
Finding a unique product that has effectiveness and longevity are key to being successful in direct selling, she added.
"You really want to find that product that you can be passionate about and has a market edge in the long term."
Unlike some direct-sales products, Norwex is not a luxury item but a grocery item. It saves people time and money, Eckel said, adding that sales were strong even during the economic downturn.
"Overall, this particular company does very well when the economy is questionable as well as when it is good," she said.
Eckel quickly built up a team of Norwex representatives and now has almost 12,000 selling underneath her from the United States, Germany and the United Kingdom.
"It's definitely grown," she said. "It's amazing to think I've grown from a little party in my house in Cedar Rapids, Iowa. I never thought I would be a CEO of a multimillion-dollar company, essentially."
She has shifted gears from selling products to training and mentoring new sales representatives. Eckel hired an assistant three years ago to help with orders and team communications so she can focus on mentoring and training her team.
"It's helping people be successful with this so they can have the blessings that I've had with it," she said.
Market for men?
While women have been most visibly associated with the industry, several companies are seeing an increase in the number of men getting involved in direct selling.
Seventy-five percent of U.S. direct sellers are women; however, the number of men representing direct-selling companies increased from 23.4 percent in 2012 to 25.6 percent in 2014, according to the DSA.
DSA's Skowronek said a lot of couples are choosing to work and sell together, maximizing their opportunities and resources. In some cases, the husbands have been able to quit their jobs because the wife has been so successful.
Norwex is seeing more men become involved in the company, Eckel said.
"Men are really starting to see how they can be a part of this company," she said. "People are beginning to see that direct selling you are more in control of your income. That appeals to men just as much as women."
Stampin' Up has 15 to 20 independent demonstrators who are men.
Earning potential
According to the DSA, 20.5 percent of direct sales nationwide are generated in the Midwest.
Tamara Panning, a wellness educator and distributor for Young Living Essential Oils, said selling the products was a way she could offset her own purchases in the company. Members receive wholesale pricing, and Panning receives a commission for every new wholesale member.
Selling the oils also was a way for the Sioux Falls stay-at-home-mom of four to earn a little extra income. She has a downline enrollment of 100 members with a goal of adding more than 1,000.
"This last year, I started using the oils for my family, and they worked so well that I started telling my friends and family," she said.
Ninety percent of direct sellers operate their business part time, according to the DSA.
"In this business, anyone can do it," Panning said. "All you have to do is share about the oils. The oils and the products sell themselves."
Panning hosts about two sessions a month where she teaches people about the products. She said she doesn't feel like she is selling but rather is sharing the research and knowledge that she knows.
"I really like to get in front of people and educate and share," she said. "By sharing, I just feel blessings by what I get in return."
Erica Blankenfeld, a member of Yoli, quit her full-time job to focus on selling the natural health products in April. She has been selling the products for about a year.
"When I went to the (Better Body) Party, the energy that I felt from members that night … I felt I needed to start it," she said. "I was a customer for two weeks before I realized that I needed to do something more with Yoli."
She said the company has given her the earning potential to improve her lifestyle and stay at home with her two girls.
"I saw my parents struggling growing up," she said. "As a mom now, I don't want my kids to feel money is tight."
Blankenfeld, 26, has been able to pay off debts, and she is planning on taking a trip to Jamaica with her husband in March. Her long-term goals are to build their dream home and earn enough income for her husband to retire.
"We had to really revamp our budget. I wanted to work for Yoli full time," she said. "I wanted to take that leap of faith and get my business started the way I needed to."
Empowering others
Blankenfeld said personal development is huge in direct- selling companies. She attends several leadership, educational and personal development events around the country for Yoli.
"If you want to be a leader like yourself, then you need to transform into that leader you want to follow," she said. "Know what you're getting yourself into, and do your research. Get to events. That's where we believe true leaders are born."
Stampin' Up has been an interesting personal journey for Nygaard, who was born with a speech impediment. An introvert who was afraid of public speaking, becoming an independent consultant has allowed her to overcome those fears.
"I've become a public speaker within the company, and I speak to strangers," she said. "I'm doing things I never thought I would be doing."
Direct-selling companies reward and recognize independent consultants for their accomplishments, she added, something that might be missing in the workplace or for stay-at-home mothers.
"We really crave recognition and the love," Nygaard said.
In the Midwest, people still embrace the feeling of hospitality and graciousness, and genuinely enjoy spending time with people face-to-face, she added.
"We like to gather together," she said. "It's that old feeling of living on the prairie and knowing your neighbors. It's a place for women to get together to have fun and get away from the mundane part of their lives."
Originally Published here.