Forever Living Products Ranks Nigeria High
October 22, 2015
By Team Business For Home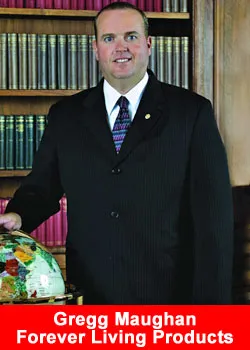 Forever Nigeria is scored high in the books of Forever Living Products International Inc, according to its President as reported in Nigeria's The Nation newspaper. The report says it is expected to strengthen its performance taking advantage of the Forever brand that is accepted around the world.
Considering the untapped market in the country, Nigeria has the potential to lead the world in Forever marketing and distribution.
Speaking at the prestigious Yard 158, Ikeja, President, Forever Living Products International Inc., Mr. Gregg Maughan, while participating at the fun-filled event, said Forever Business Owners who market Forever products must believe in themselves, utilise the opportunities provided by Forever to improve their health and livelihood.
Also speaking at the event, Forever Director of Operations, Africa, Mr. Jackson Adagala, asked those involved in the business to avoid stereotype and embrace innovation.
"You can transform the way you do your business. Forever is already a brand name accepted around the world, therefore, to succeed you need to create your own personal brand within the Forever brand. You must think beyond yourself and think about the society. That way your business will become distinct and you will prosper beyond your own imagination," he said.
Speaking to newsmen at the event, Gregg Maughan, said the multi-level marketing company has changed the lives of many who come into the business. That, he said, must explain the reason hundreds of young people and professionals are joining the Forever business on a daily basis.
"When you market our aloe-vera based drinks, nutritional supplements, personal care products, you can never go wrong, because aside benefiting from the healthy habits that is specially packaged to educate you, you make so much money you would never have thought possible in your life", Gregg Maughan said, adding, "Coming once again to Nigeria, and being part of this event, I feel exceptionally amazed. I'm still trying to listen to what is happening because of the noise, but the excitement is incredible."
The two visiting executives urged Nigerians to embrace the Forever business that is being offered, adding that nobody could stop them from making the money that was in abundance in the business.
Speaking earlier, Forever Nigeria, Country Sales Manager, Mr. Olusegun Israel-Adegboye, said the company is doing new things and committed to doing its part in reducing the high level of unemployment in the country by encouraging young people and unpaid employees to come forward and benefit from the opportunity that Forever provides.
"Forever provides the opportunity to have a sustainable stream of income which can last a lifetime. There are many people who have been empowered financially while improving their health through Forever. The Forever networking business model is simply based on getting a small bonus when you introduce our products to others and encourage them to buy our products. The more people buy products from you, even though a third party, the more bonuses you get. We have now upped our game by making it easier for our business owners with very busy lifestyles, like housewives, to run their Forever business with great profit," he said.