How Cabi Tweaked Direct Sales Model To Success
October 2, 2015
By Team Business For Home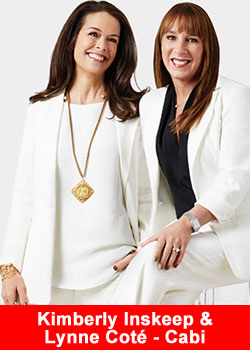 Kimberly Inskeep used to love shopping.
But as she got busier with work, family and life in general, she found there was rarely time to hit the stores. If anything, going shopping felt more like an errand than an outing.
"This is a female issue," said Inkseep, founder, president and chief culture officer of clothing retailer Cabi. "We thought we could solve this for women by really giving her an experience that can really enhance her confidence."
Cabi, which stands for Carol Anderson by Invitation, started in 2002 with the purpose of reinventing the shopping experience, as well as the success rate for direct sales companies. Almost 14 years later, the $250 million company has cemented its place in the direct selling industry.
"We wanted to position it as a real viable alternative…to the corporate grind," Inskeep told Bizwomen. "It was really about creating an overall philosophy."
Cabi "stylists" make a $2,500 investment in Cabi clothing at the start of each spring/summer and fall/winter season. Throughout the season, stylists set up living room showrooms where women can try on sample pieces and order from a catalog.
Stylists receive 25 to 33 percent commission on all items they sell, according to the website, and they can also sell their sample items at the end of the season for discounted prices. Inskeep said Cabi's business model is performance-driven and stylists are required to sell a minimum amount each season to continue selling.
"She has to be serious," Inskeep said. "She has to be willing to put some skin in the game."
Inskeep said Cabi has an 85 percent stylist retention rate, compared to 20 or 30 percent in other direct sales companies like Mary Kay.
Inskeep has a background in corporate sales, and Cabi's founding team had a blend of corporate and retail experience. Inskeep wanted a job as a Cabi stylist to be a viable, profitable career option for women, and the business model makes it so women entering the company today can be just as profitable as those who started years ago.
Stylists are not only expected to make sales, but to create a confidence-boosting experience for customers. Inskeep said stylists offer personalized help in a relaxed environment where shoppers and consultants can become friends.
"I call it a catalyst for transformational moments," Inskeep said.
Cabi entered the Canadian market this summer, the first international expansion for the brand. The growth of the company, Inskeep said, relies on strong products and strong collaborative culture.
"Culture eats strategy for lunch," Inskeep said, paraphrasing business philosopher Peter Drucker. "That is the basis of our company. I think that's where the difference is."
Originally Published Here