India Hicks Combines Island Living With Storied British History
October 19, 2015
By Team Business For Home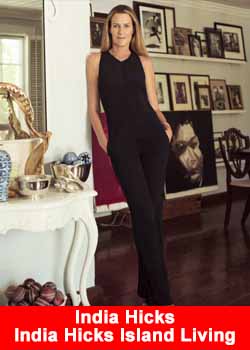 India Hicks may not exactly be a household name, but her name did make it into 750 million homes in the summer of 1981, when, at the tender age of 13, she served as Lady Diana Spencer's bridesmaid in her wedding to Prince Charles, who is India's godfather.
She is the great-great-great-granddaughter of Queen Victoria, daughter of famed interior designer David Nightingale Hicks and Lady Pamela Louise Hicks (née Mountbatten), an aristocrat who is a first cousin of Prince Philip, Duke of Edinburgh and a great-niece of the last tsarina of Russia, Alexandra Feodorovna.
Despite the amazing lineage, India has always remained quite down-to earth. Not only that, she has defied expectations for a young lady in her position every step of the way. So much so, it has become an integral part of her personal brand. "For me, it's all about living an extraordinary life and making choices for yourself," she says.
Today she is a model, mother, designer, rebel, savvy business woman and author of best-selling books promoting her vision of the perfectly curated island life. In her latest business venture, she is the founder of India Hicks, her namesake direct sales company in partnership with Los Angeles-based partners Konstantin Glasmacher, cofounder of HauteLook and Sole Society, and Nicholas Keuper, a former senior partner at Boston Consulting Group. Hicks has entered the e-commerce and direct sales arena with a bath and body, accessories and jewelry range.
In 1990, she graduated with honors from the New England School of Photography in Boston, then headed to New York City to continue modeling, landing campaigns with Ralph Lauren and J. Crew, as well as the cover of Tatler. She crisscrossed the globe both as a model and a backpacker, before meeting her future-husband David, a fellow Brit and friend of her older sister. She showed up unannounced to go diving in Harbour Island, where he was managing a hotel, and the rest, as they say, is history.
The two put down roots and renovated their home, Hibiscus Hill, before settling down and having four children together. As the family grew, so did their home, which now consists of four homes and guest houses. It was here that she developed her island style, which was lauded on The Landing, a historic, hurricane-battered Harbour Island property dating back to 1800, that she transformed into an endlessly chic boutique hotel.
Harbour Island has played a large role in all of her commercial ventures, as well as her three books: Island Life: Inspirational Interiors, Island Beauty: Natural Inspiration for Mind, Body and Soul and Rizzoli's India Hicks Island Style, which was released in March 2015.
In recent years, Hicks has turned her designer's eye to handbags and accessories for her namesake company, India Hicks. On one of the days we catch up with her, she is calling from Omaha, Neb., a rather humble spot for Hicks to spend time. Her travels to the far corners of the country illustrate the reach she is going for with her new line, which is sold through direct sales by more than 500 women all over the country.
"We spent the day at the home of this beautiful, generous woman, with all of her girlfriends," explains Hicks. "They were really excited about the collection. They told me that shopping is very limited in Omaha, so it was quite nice [for them]."

It is with these (mostly female) representatives that the India Hicks London-Harbour Island line, consisting of beauty products, accessories and jewelry, come to life. "This is where stories are told — as passionately as I can tell them myself," she says. And there are stories behind these items — amazing, jet-setting, historic and… royal ones.
Take, for example, the Duchess of Windsor bag, which is actually a computer case disguised as a chic handbag. "My grandparents knew her quite well and she truly was the most stylish woman in the world in the 1940s," she says of the woman King Edward the VIII gave up his throne for, Wallis Simpson. "I always wanted to have what she had, hopping between her worlds Nassau, London and Paris, so I designed a bag that I think the Duchess of Windsor would have carried if she'd had a computer in 1940," says Hicks with a laugh.
The Carmen Clutch is named after a friend of Lady Pamela's mother, for who she is also named. "She was a wonderful Spanish aristocrat who ran off with a bull fighter. That's the kind of woman that I aspire to be — one who stands on her own two feet, lives life very individually and doesn't necessarily do what is expected of her," she says.
This is exactly how she has chosen to live her own life, and it's easy to see why the women selling her line would have fun embracing this spirit and making some of these stories their own.
"I really love the fact that [these items] aren't sitting cold on a shelf in a department store somewhere," says Hicks. It's smart business, too. "If I were in retail, I'd never be able to be in 500 stores already."
Direct sales also means she can penetrate remote markets that don't have the kind of department stores that would stock these kind of items — places, not entirely unlike Harbour Island. The merchandise is in fact higher-end than one would generally associate with direct-sales products. "We manufacture through the Ralph Lauren factory, and we had our fragrances developed by IFF, one of the best fragrance houses in the world. That sets us apart straight away," explains Hicks.
For years, Hicks has been known as something of a licensing maven, having India Hicks Island Living collections for Crabtree & Evelyn and HSN, and offering up a fine jewelry line via Bloomingdale's. But this is the first time the reins are totally in her hands.
"I spent nine years with Crabtree & Evelyn, and I love what I learned there, but now I am actually building something [and] watching it grow in a way I wouldn't do if I were licensing," she says.
Hicks is only now starting to delegate some of the design process. "Every single detail is OK'd by me; nothing goes out that I haven't seen. I don't want to sound like a maniac, but I just want to make sure there is a very strong brand DNA.
People need to be able to see something and know it's an India Hicks product. My fingerprints need to be all over it," she says. And they are. After all, it is her life… her very essence that she's selling.