John Addison Joins LegalShield Board of Directors
October 27, 2015
By Nicole Dunkley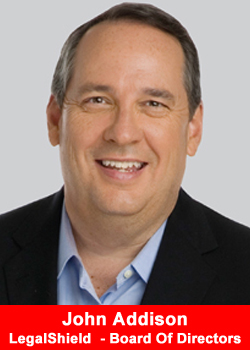 After stepping down as Co-CEO of Primerica earlier this year, industry veteran John Addison is joining LegalShield's board of directors, the leagal services provider announced Monday.
Addison, who also sits on Primerica's board, is the non-executive Chairman of Primerica Distribution. He transitioned to the role in April, after 33 years with the financial services distributor. Formerly a part of Citigroup, Primerica conducted a successful IPO in 2010 under the leadership of Addison and Co-CEO Rick Williams.
"John Addison is not only an industry pioneer who understands our business; he also sits at the vanguard of people development and motivation," LegalShield CEO Jeff Bell said in a statement. "We are combining best-in-class leadership with an industry-leading suite of products, creating a business that truly helps people."
After more than 40 years in the business, Oklahoma-based LegalShield has built a membership of 1.4 million covering 3.7 million lives. Independent Associates market the company's 24/7 legal counsel and identity theft protection to businesses as well as individuals. Currently, upwards of 34,000 companies offer the LegalShield plan to employees as a voluntary benefit.
Addison's relationship with LegalShield began in 1997, when he met the company's late founder, Harland Stonecipher. "Harland always said LegalShield exists to serve a mission greater than itself—equal access to equal justice—something that matters now more than ever. I am very proud to be a part of this company," said Addison.
In the past year, LegalShield has taken steps to enhance its digital presence, including an overhaul of the company's websites and the launch of three new mobile apps, providing legal advice to the general public and more extensive services for members. In April, LegalShield acquired the assets of Shake LLC, owner of the Shake app, which enables users to create and manage legal contracts from their smartphones.
About LegalShield
LegalShield is one of the nation's leading providers of legal safeguards for individuals, families, and small businesses. LegalShield also offers one of the industry's most affordable identity theft plans, with identity theft protection for the entire family for the cost most competitors charge to cover a single individual. LegalShield legal plans cover more than 1.4 million families and 3.7 million lives across North America.
More than 34,000 companies offer the LegalShield plan to their employees as a voluntary benefit. For as low as $20 per month, LegalShield members get access to attorneys with an average of 19 years of experience in such areas as family matters, estate planning, financial and business issues, consumer protection, tax, real estate, benefits disputes and auto/driving issues. Unlike other legal plans or do-it-yourself websites, LegalShield has dedicated law firms in 49 states and four provinces in Canada that members can call for help without having to worry about high hourly rates. In 2013 alone, LegalShield firms received more than 1.8 million calls from members.