LegalShield Highlights Need For Identity Restoration
October 22, 2015
By Team Business For Home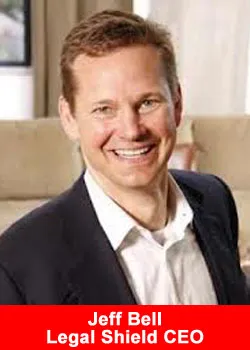 Recent reports that hackers stole personal information affecting as many as 15 million T-Mobile wireless customers in the US—including Social Security numbers, home addresses, birthdates and other personal information—spotlights the fact there is no such thing as ironclad data security.
The announcement is only the latest in a series of high profile data security breaches affecting private businesses and the United States Government.
The risk of identity theft is a reality for the millions of Americans whose personal data is stored on public and private servers. Identity theft last year accounted for financial losses of $25 billion in the United States alone.
"Everyone's talking about data security these days, but the truth is no data system is immune to security breaches or hackers, placing every American at risk of identity theft," said Jeff Bell, CEO of LegalShield. "It's important not only to take steps to prevent identity theft, but also to have a plan to restore your identity when it's stolen."
The Federal Trade Commission (FTC) estimates the average identity theft victim invests more than 200 hours and spends a total of 18 months resolving the issue with credit reporting agencies.
"The identity theft victim's life is effectively hijacked, and they need dedicated professionals to help get it back," said Bell. A victim's stolen information—Social Security and credit card numbers, and dates of birth—often land on the "dark" web, where they're bought and sold by criminal groups that operate around the globe.
To mitigate the effects of security breaches and restore the good names of identity theft victims, LegalShield earlier this year launched IDShield with Kroll, which was recently named a leader in customer data breach notification and response services.
For a monthly fee, IDShield monitors consumers' identities, including their SSN, credit cards, and bank accounts; as well as their names, address, date of birth, drivers license and passport numbers, e-mail addresses, phone numbers, and medical identification numbers.
If a member's status changes, the member receives an e-mail update. If a member spots suspicious or fraudulent activity, he or she can contact a licensed private investigator immediately and begin restoring his or her identity. IDShield offers the only team of licensed private investigators in the consumer identity restoration industry.
"It's important to monitor what matters, but the only real way to prepare for identity theft is to have a dedicated team of licensed private investigators ready to restore your identity when it's compromised," said Bell.
The company will invest up to $5 million to restore the victims' identities to their pre-theft status if their personal information is ever compromised or stolen. To date, the service has helped more than one million individuals.
About LegalShield
LegalShield is one of the nation's leading providers of legal safeguards for individuals, families, and small businesses. LegalShield also offers one of the industry's most affordable identity theft plans, with identity theft protection for the entire family for the cost most competitors charge to cover a single individual. LegalShield legal plans cover more than 1.4 million families and 3.7 million lives across North America.
More than 34,000 companies offer the LegalShield plan to their employees as a voluntary benefit. For as low as $20 per month, LegalShield members get access to attorneys with an average of 19 years of experience in such areas as family matters, estate planning, financial and business issues, consumer protection, tax, real estate, benefits disputes and auto/driving issues. Unlike other legal plans or do-it-yourself websites, LegalShield has dedicated law firms in 49 states and four provinces in Canada that members can call for help without having to worry about high hourly rates. In 2013 alone, LegalShield firms received more than 1.8 million calls from members.