LR Health & Beauty Honored With 2015 Astra Award "Company Of The Year"
October 20, 2015
By Nicole Dunkley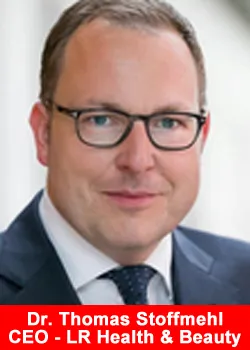 Recently, at the European Direct Selling Conference in Brussels, this year's Astra Award Company of the Year was awarded to the Ahlen-based cosmetics enterprise LR Health & Beauty Systems GmbH.
With this award, LR has been honoured by the European Direct Selling Associations as best direct selling enterprise. "LR is a company committed to a united direct selling industry in Europe and support the work of the direct selling associations", emphasised Jacques Cosnefroy, member of the board of Seldia.
Every year, the Award of the European Direct Selling Association (Seldia) honours the most successful member enterprise. The positive development of the visibility in the direct sales segment and the enhancement of the socio-economic benefit of the company are two of the criteria for the awarding decision. Additionally, the advantages for the customers are also taken into account.
This award is a huge success for us. The recognition of our company and our work on a European level is a great honour for us, commented Dr. Thomas Stoffmehl, CEO and LR's management spokesman. Member enterprises of Selida are committed to comply with high ethical standards and existing regulations in direct sales. About 80 percent of direct selling enterprises and direct selling associations in Europe are members of the association.