Nu Skin 2015 Q3 Revenue Down 10.6% To $571.3 Million
October 30, 2015
By Nicole Dunkley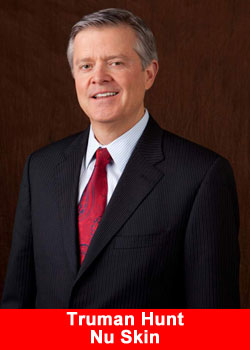 Nu Skin Enterprises, reported revenue of $571.30 million for the quarter, compared to analysts expectations of $581.91 million.The company's revenue was down -10.6% compared to the same quarter last year. During the same quarter in the previous year.
With the introductions of ageLOC Me and ageLOC Youth, we are beginning a new business cycle that we believe will drive meaningful growth, said Hunt.
Based on the successful third-quarter introduction of ageLOC Youth in South Asia/Pacific, we anticipate positive global momentum from the introduction of these new products to continue in the fourth quarter and throughout 2016.
Our balance sheet is strong, with a solid net-cash position. We are generating healthy cash flow and plan to use it to improve shareholder value, as demonstrated by today's announcement of an increase in the company's stock repurchase authorization to $500 million, concluded Hunt.
We project fourth-quarter revenue of $570 to $590 million, which anticipates a negative foreign currency impact of 10 to 11 percent, said Ritch Wood, chief financial officer.
We also anticipate fourth-quarter earnings per share of $0.70 to $0.73. We look forward to discussing our 2016 business plans with shareholders at our investor day on December 4, 2015 in New York, concluded Wood.
Operational Performance
The company's operating and gross margins were both negatively impacted by the China inventory write-down. Operating margin for the quarter was 7.4 percent, compared to 16.4 percent in the third quarter of 2014. Excluding the impact of the inventory write down, operating margin was 14.1 percent. Gross margin during the quarter was 73.3 percent, versus 82.9 percent in the prior-year period.
Selling expenses were 42.1 percent of sales in the third quarter, compared to 41.2 percent in the prior-year period. General and administrative expenses were 23.8 percent of sales compared to 25.3 percent. The company's effective income tax rate for the quarter increased from 35.6 percent in the prior year to 42.1 percent.
The higher tax rate was primarily related to the inventory write-down. Cash and current investments at the end of the quarter were $316.7 million and debt was $253.0 million. Dividend payments during the quarter were $20.2 million. Cash flow from operations for the quarter was $82.4 million, and the company repurchased $28.2 million of its outstanding shares.
About Nu Skin Enterprises, Inc.
Nu Skin Enterprises, Inc. demonstrates its tradition of innovation through its comprehensive anti-aging product portfolio, independent business opportunity and corporate social responsibility initiatives. The company's scientific leadership in both skin care and nutrition has established Nu Skin as a premier anti-aging company. The company's anti-aging products feature the ageLOC line of products including ageLOC Tru Face® Essence Ultra firming serum, the ageLOC TR90® weight management and body shaping system, ageLOC R2 nutritional supplement, and ageLOC Transformation daily skin care system. A global direct selling company, Nu Skin operates in 53 markets worldwide and is traded on the New York Stock Exchange under the symbol 'NUS'.