The Top Direct Selling Companies In The World 2016 – Poll
October 1, 2015
By Team Business For Home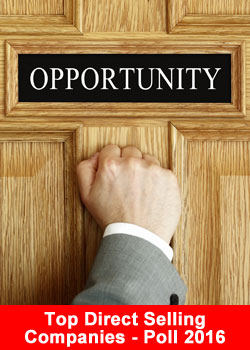 Business For Home is compiling the Top Direct Selling Companies in the world for 2016. We have nominated over 500+ Top Direct Selling opportunities.
Last year the poll received over 1 million+ pageviews and 87,000 people liked the poll on facebook.
We have added approx. 100 new companies to the poll compared to last year.
Every single day, 70,000+ prospects worldwide are looking for information to find the best opportunity available.
Many people think of cosmetics, wellness products and home décor as products that are often sold through direct sales, but add to that countless other product categories including kitchen products, high end jewelry, clothing, organic gardening supplies, Forex, spa products, scrapbooking supplies, rubber stamps and much, much more.
Where can you make money? What are the best companies? Is it an USA based company? Or an opportunity from Germany, Thailand, China, India, Brazil?
The results from last year can be found are here, 100,000+ MLM / Direct Selling professionals voted – 1,600+ Tweets – 400+ Google plus shares and 550+ Linkedin shares.
Talking about free exposure for an opportunity ….
DO NOT Buy Facebook votes. We will notice, see this article…
The poll will close October 31 (12 PM – PST)
We love to have your Facebook comment 🙂
How to vote:
1. Scroll down; under the photo's is a Drop Down Box
2. Open the Drop Down box and select your choice
3. Push the vote button.
The Top 200 in real time:
The full list:
Please hold on..