Buying Facebook Votes Or Run Scripts Does Not Help To Win A Poll
January 25, 2015
By Team Business For Home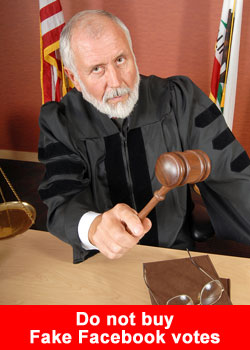 We consider it a compliment when people try to manipulate our polls by buying Facebook votes from scam artists or try to run smart scripts, it shows how important those polls are for the field.
We have had a couple of attempts to bring in fake facebook votes, and those fake votes are removed.
We understand, it is very important for companies to end up high in a poll however we want the competition to be fair and will do every thing possible to keep it that way.
There are mercenaries who have created thousands of fake Facebook profiles. Often they are from Bangladesh, India or East Europe. They sell their voting services
However we know the Direct Selling industry and as we are logging the IP address and facebook link, both our security systems, as regular manual checks and our industry knowledge will reveal fake facebook votes.
We even go that far, when we smell something Fishy that we will contact facebook members and ask them if they are aware of a vote.
In that case we will place the company, CEO or rep out of competition.
To give a small example what we log:
| | | |
| --- | --- | --- |
| IP | Facebook account | Date |
| 109.92.10.127 / 109-92-10-127.dynamic.isp.telekom.rs | https://facebook.com/profile.php?id=(removed) | January 25, 2015 @ 4:40 am |
Keep poll voting clean, scam artists can maybe bring in temporary fake votes but we will notice.…
Ted Nuyten