Thirty-One Gifts To close Its Springfield Facility
October 30, 2015
By Nicole Dunkley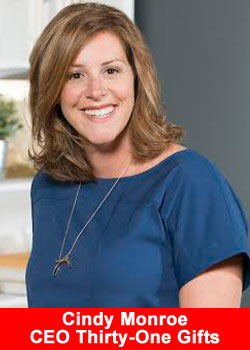 Thirty-One Gifts, which just four years ago pledged as many as 500 jobs for the area, will close its Springfield facility in January.
The closing, announced Thursday afternoon, will affect 74 employees at the company as well as an undisclosed number of workers at Exel Logistics, a local subcontractor.
"We will consolidate our distribution and personalization activities to our home office in Easton in Columbus, closing our Johnstown and Springfield facilities in 2016," Thirty-One Gifts said in a press release. "We are making these changes to align our operating capacity with business needs. Operations at Easton will continue without interruption."
Thirty-One Gifts was founded in 2003 in Tennessee in the basement of Cindy Monroe, the company's CEO and founder. The Springfield location produces handbags, fashion accessories, totes and other products, and personalizes them with monograms for customers. The items are then packaged and sent to one of an estimated 100,000 consultants, according to the company, who then sell the products to customers nationwide.
"It's a major blow economically, but we now have a building available and a very active chamber of commerce which will try to market it," said John Detrick, Clark County Commissioner.
Earlier this month, officials from Thirty-One Gifts asked Springfield city officials to rescind incentives both sides had agreed to because the company had failed to create the number of jobs expected as part of the deal. Both sides agreed in 2011 that Springfield would provide a maximum of $396,000 in annual incentives based on how many jobs the company created.
The company has also invested about $8.7 million in equipment and other improvements at it Springfield location, according to city documents.
However, the company did not seek payment of those incentives, and the city never made a payment to the company under the deal because those jobs failed to materialize. The original agreement was scheduled to be in effect until 2017.
There was no indication from the company then that a consolidation was looming, said Tom Franzen, economic development director and assistant city manager for Springfield.
About Thirty-One Gifts
Founder, President & CEO Cindy Monroe started Thirty-One in her basement in 2003. From those humble beginnings we've grown into one of the most successful direct-selling businesses in the world, with more than 90,000 independent Sales Consultants across the U.S. and Canada. Thirty-One Gifts is about so much more than just a bag. We are a family of individuals who share a passion for empowering women, and who are committed to celebrate, encourage and reward others for who they are.
Become a Recommended Distributor
Direct Selling Distributors, they are active professionals, who love to team up with you!