Tupperware Reports Third Quarter 2015 Results – Sales Up 7%
October 21, 2015
By Nicole Dunkley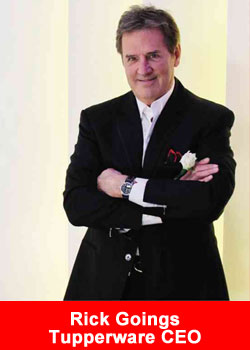 Tupperware Brands Corporation today announced third quarter 2015 operating results. Rick Goings, Chairman and CEO, commented, I am pleased that our management teams were able to build momentum through the quarter, to bring in a 7% local currency sales increase, beating the high-end of our guidance range.
The strong performance shows how the flexibility in our business model enables us to react to economic and political volatility.
Goings continued, We are confident in our strategies for capturing future growth through penetration opportunities in many of our markets and from the benefits of our Vision 20/20 initiatives, as highlighted in our analyst day update video posted on our website on October 12th.
We see a bright future for our 3.1 million global sales force, our associates and in our ability to continue to provide value to all of our stakeholders.
Third Quarter Executive Summary
Third quarter 2015 net sales were

$521.0 million

up 7% in local currency and down 11% in dollars. Emerging markets**, accounting for 70% of sales, achieved an 11% increase in local currency, a 3 point sequential improvement from the second quarter. The most significant contributors to third quarter growth were

Brazil

,

China

,

Indonesia

, and Tupperware South Africa. Established markets were even in local currency, a 2 point sequential improvement from the second quarter, primarily from good performance in Tupperware United States and

Canada

and sequential improvements in

France

and

Italy

.
GAAP net income of

$36.2 million

, was up 12% versus prior year net income of

$32.3 million

. GAAP net income included benefits from a land transaction and higher costs in the prior year related to

Venezuela

, along with the benefit of local currency sales growth and better profitability in the Beauty North America and

South America

segments. Earnings per share without items was down 12% versus last year in dollars, including a negative

27 cent

impact from changes in exchange rates on the comparison. Excluding the impact of foreign currency rates on the comparison, adjusted net income was up 26% versus the prior year. Adjusted diluted E.P.S. of

$0.79

was

5 cents

above the July outlook range, including overcoming a negative

5 cent

impact versus the guidance from changes in foreign exchange rates.

Total sales force of 3.1 million was up 5% versus prior year at the end of the quarter, and there were 3% more active sellers in the quarter, both 2-point improvements from the second quarter.
Third Quarter Business Highlights
Europe: Strong increases by the two South African businesses and in the Middle East and North Africa, partially offset by lower sales in Italy
Segment sales were up 4% in local currency (down 14% in dollars).

Emerging markets were up 20% in local currency. Increase driven by the

Middle East

and

North Africa

businesses, up 97%, reflecting strong execution, Tupperware South Africa up 52%, which included some benefits from lapping strike related impacts in 2014, and Avroy Shlain in

South Africa

, up 23% with higher active sellers and increased productivity.
Established markets were down 5% in local currency.

Portugal

was up 18% offset by

Germany

, down 4%,

France

, down 6%, and

Italy

, down 15%.
Asia Pacific: China and Indonesia drive growth with partial offset from Malaysia/Singapore
Sales for the segment were up 6% in local currency (down 8% in dollars), a 5 point sequential improvement, driven by the emerging markets up 7% in local currency.

Emerging Market growth led by

China

, up 18%, and

Indonesia

, up 12%, which was a sequential improvement of 17 points on higher sales force productivity and the distributor ordering pattern.
Established markets were up 2% compared with prior year. Nutrimetics Australia and

New Zealand

was up 11% on higher sales force activity.
Tupperware North America: Both Tupperware United States and Canada and Tupperware Mexico leveraged strong fundamentals each growing sales in local currency by 14%
Segment sales up 14% in local currency (even in dollars). Tupperware United States and

Canada

sales benefited from a double-digit increase in active sellers. Sales force size closed 20% above prior year.

Tupperware Mexico grew on higher activity and productivity. Sales force size up 5% compared with prior year.
Beauty North America: Fuller Mexico achieves sales force size advantage.
Sales for the segment were down 7% in local currency (down 22% in dollars), with BeautiControl local currency sales down 16%, from lower sales force activity and productivity in light of sales force compensation changes in the second quarter.

Fuller

Mexico

local currency sales were down 3% from the prior year. Total sales force size crossed over to up 1% as of the end of September.

Value chain improvement at BeautiControl led to improvement in profitability in the segment compared with last year.
South America: Local currency sales up 21% mainly from higher volume from Brazil.
Segment sales up 21% in local currency (down 19% in dollars), driven by increases in

Argentina

and

Brazil

.

Brazil

was up 21% in local currency, reflecting higher volume from a large sales force size advantage and higher pricing.

Argentina

was up 39%, primarily due to inflation related higher prices.
Segment's active sales force was up 1%. The 20 point difference between the local currency sales and active seller comparisons primarily reflected the higher prices in the segment, along with more productive and active sellers in

Brazil

that has a higher than average order size.
About Tupperware
Tupperware is the leading global marketer of innovative, premium products across multiple brands utilizing a relationship based selling method through an independent sales force of 3.1 million. Product brands and categories include design-centric preparation, storage and serving solutions for the kitchen and home through the Tupperware brand and beauty and personal care products through the Avroy Shlain, BeautiControl, Fuller Cosmetics, NaturCare, Nutrimetics, and Nuvo brands.