Why Direct Selling Beauty Brands Are Making a Comeback
October 3, 2015
By Team Business For Home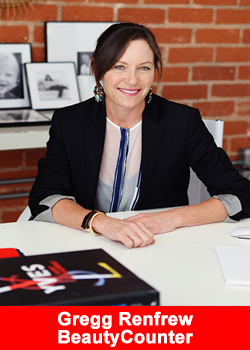 Town & Country Magazine says in an article in its latest issue that guerrilla marketing tactics and major product upgrades are enabling direct selling beauty brands to have their moment.
Once upon a time, a woman who wanted to make a little extra money while caring for her children would open her home to a few friends from the neighborhood, serve up some deviled eggs, and expound upon the life-changing benefits of a mauve lipstick or a nestled set of Tupperware. Fast-forward a few decades and the social (or direct) selling landscape has changed—dramatically.
I'll hand off a bag through a car window at school drop-off. I'll meet someone for a quick coffee. I'll drop some in the mail to send to friends across the country, says Paige Cleveland, a top-performing direct saleswoman for Beautycounter, a personal care brand with a network of 8,500 representatives across the country. I do my work when I want to. Then I go play tennis and make dinner.
The flexibility of direct selling has always been part of its appeal, but the current generation of salespeople is armed with strong visual marketing materials, versatile e-commerce platforms, and Facebook networks that extend far beyond the community they could reach in a car. And, most important, the products themselves have gotten a significant makeover.
When Gregg Renfrew founded Beautycounter with a commitment to nontoxic personal care products that don't compromise on performance, she didn't intend to follow the direct sales model.
We decided that this was a story best told person to person, Renfrew says. Beauty counter's consultants go out into the world armed with information like this about cosmetic chemistry: Only 10 percent of the 10,000 ingredients regularly used in personal care products have safety data, and many of the ingredients we regularly apply to our faces and bodies are banned throughout Europe because of toxicity fears. This message has resonated with women: Gross revenues tripled between the first quarters of 2014 and 2015.
Back in the late 19th century, David McConnell, the founder of Avon, realized that the women he met while selling books door-to-door felt isolated and power less because they had no financial independence. At that point only 20 percent of American women worked outside the home. More than 125 years later that number is closer to 70 percent. But the empowerment message still feels relevant. And the original companies in the category are thriving. The global Avon sales force is 6 million, and there is a fleet of 1,300 pink Cadillacs on the road today driven by Mary Kay reps who sell $100,000 worth of product in six months.
Rodan + Fields, the company created by the dermatologists behind Proactiv, is a line of high-performance skincare products aimed at the prestige market and sold in person and online. Stella & Dot, a costume jewelry company that has pulled in close to a billion dollars in less than a decade through social selling, has branched out into skincare with a line called Ever. It's designed around a proprietary ingredient, LSR10, that targets the 10 signs of aging and is delivered in botanical-based formulas. Teens are getting into the market with brands like Willa, which encourages Willagirls to make pocket money by selling sunscreen and lip gloss to friends in person, on social media, or through an app. Earning margins for the sellers are tough (women must sell $1,000 worth of product to clear $250), but it's a full-time gig for only a few people.
Beautycounter's Renfrew was such an inspiration to lifestyle entrepreneur India Hicks that Hicks stalked her when both women were on vacation in the Bahamas.
Gregg came out of the water, and I was standing there with my hands on my hips, Hicks says, laughing. Luckily, she was so supportive and fantastic. It was really powerful to sit with her and hear what she's done.
Hicks is now selling her uniquely refined English-Bahamian lifestyle brand through women who reach out to their online communities or host cocktail parties for friends. I want to inspire women to think for themselves and live life a little differently, Hicks says. And there was something very appealing about getting back into the heart of the home.
Originally Published here.