WOR(l)D Global Network Launches Official Headquarters In India
October 15, 2015
By Team Business For Home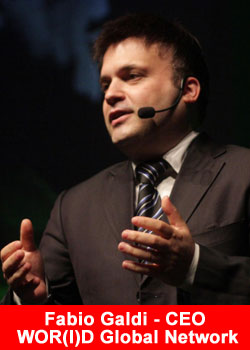 October 17 and 18 mark the official opening of WOR(L)D Global Network headquarters in Bangalore, India, and with the inauguration of these new offices, it marks the start of the business in India.
Already, over 100,000 Indian consultants have joined WOR(l)D just two months after the Diamond Life tour in Istanbul, where the company first announced the imminent inauguration of the new, official headquarters in India.
It is a highly anticipated and exclusive event, attended by leading representatives of WOR(l)D's management: President and CEO Fabio Galdi, COO Alessandro Senator, and SVP of Network Walter Presutti. This extraordinary milestone is evidence of WOR(l)D's global success.
The sky is the limit when you reach with great incentive toward loftier goals, and the reward, once attained, is that much sweeter.
WOR(l)D Global Network has always recognized India's incredible potential, and now the prelaunch is set to commence in one of the greatest nations in the world. What was once a seemingly unattainable goal impeded by the limitations of time, is now a testament to our success.
As WOR(l)D continues to expand, the company garners the world's respect and admiration for its many achievements.
About WOR(l)D GN
WOR(l)D also referred to as World GN is a global multi million dollar company that offers services in the telecommunications, renewable energy, technology and mobile Telecommunication. Its current headquarters is in the United States with its major offices in the United States, United Kingdom, Russia, Moscow, Ireland, China, Singapore and India.
For more information please visit www.worldgn.com