Beautycounter CEO Heading to Congressional Briefing On Cosmetics Industry
November 16, 2015
By Team Business For Home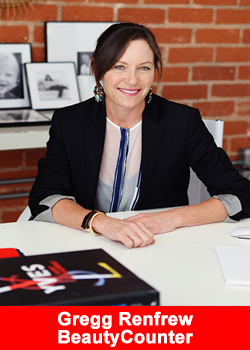 Experts including Gregg Renfrew, founder and CEO of Beautycounter, are preparing to head to Capitol Hill for a Congressional briefing on Nov.17 in the Senate Dirksen Building in Washington D.C.
The group plans to show how "the current cosmetics industry is broken, from the use of harmful ingredients to lack of transparency in the supply chain."
Additionally, Renfrew will be meeting with Senators to ask for their leadership on cosmetic safety reform.
Nearly every major consumer category has undergone radical change in recent years – from food to entertainment to transportation. But not the beauty industry, where companies are legally allowed to use ingredients linked to breast cancer, infertility, early puberty and other health issues.

Consumers are demanding more transparency and regulation, and I hope to help lead this movement that gets toxic ingredients out of the products that people use on their skin everyday, said Renfrew, who launched Beautycounter in 2013.
At Beautycounter, we are leading a movement for better beauty. We are a company who is pro-commerce and pro-regulation. While we have shipped close to 2 million products, we know it's only the beginning – there is a lot of work to be done. We are radically transforming the beauty industry by introducing safer, high-performance products into the marketplace."
Under the Federal Food, Drug and Cosmetic Act of 1938, beauty products do not require FDA approval before they are launched to market, leaving the industry to self-regulate product safety. While the European Union has banned almost 1,400 ingredients from use in personal care products, in the US this figure is closer to 11.
Beautycounter is one of the only certified B Corporations in the cosmetics industry. Sales have grown 325%year over year since Q1 2014, and the company expects to reach two million units sold by the end of 2015.