Cookie Lee Transforms Into ViVi
November 18, 2015
By Team Business For Home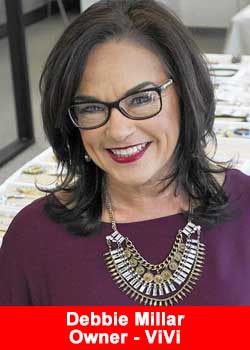 In a showroom in a Tustin business complex recently, women bustled around, looking at rings, earrings, bracelets and other fashion accessories.
Debbie Millar — clad in leather leggings and a crimson-colored top, and radiating with a crystal and gold necklace and wrist cuff — walked over to a collection featuring pearls and picked up one of the jewelry line's latest creations.
This is one my favorites, Millar said.
Millar, a wife and mother of six children ranging in age from 16 to 22, is the new owner of ViVi, an accessories — primarily jewelry — company formally known as Cookie Lee.
She bought the company last year when her friend, Lee, the founder and namesake, decided to end her 23-year reign over one of the most successful home-grown success stories in Orange County.
At ViVi, stay-at-home moms and people looking for a full- or part-time income can become personal stylists, selling the company's stock through their personal web page, social media and social gatherings. They earn up to 50% of sales. Think Tupperware or Mary Kay parties.
The showroom in Tustin is not open to the public. Instead, it is a place where the stylists can pick up their supplies and glimpse new designs, including sunglasses and scarves.
Millar said that in addition to offering women a flexible schedule while earning an income, she wanted to provide personal and professional development opportunities, recognizing that many of the stylists were in transition after a divorce, death in the family or job loss.
As a former personal stylist who launched her own direct-selling jewelry company, bamboopink, in 2010, Millar said she is committed to helping her consultants continue their success through leadership training.
I love that we can be a source for women reentering the workforce, Millar said. I fell in love with the opportunities that this job offered and that women can see the possibilities and that I could be their cheerleader.
After acquiring the company in April 2014, Millar hired Shawn Forbes, who has more than 20 years of fashion industry experience, including serving as a senior fashion director and merchandiser for Macy's West.
Today, Forbes serves as ViVi's vice president of creativity, curating the company's catalogs and jewelry collections. The collections — two each year — are a change from the way things were done under the previous ownership.
Millar, who with her husband, Ron, is founding partner of HOM, a luxury residential real estate group, has been modernizing ViVi, which went through a rebranding last summer. Millar said she initially had no intention of changing the Cookie Lee name, but after consulting with a branding agency, she opted for ViVi — which stands for Vision, Inspiration, Value and Independence.
She said the acronym speaks of a business model that celebrates individuality, honors the bonds of friendship and helps women succeed, financially and otherwise.
ViVi is also about selling jewelry that is affordable, fun and fashionable even though inspired by trendy and contemporary designs. All merchandise is priced under $50.
The items are delivered directly to customers through social media channels, home and office shows, fundraisers and e-commerce sites.
The mass-marketed jewelry has struck a chord with busy moms who want to look fashionable but don't want to drop big bucks on expensive earrings, bracelets and necklaces.
And the stylists seem happy too. ViVi stylist Connie Allred of Brea said she has made over $1 million in sales in her 13 years with the company.
She said she was interested in joining because she wanted to be her own boss, create her own schedule and make fun extra cash while still being able to make her five children her priority.
I quickly learned how fun and easy this was and the great income it provided for my family, plus the free trips every year are the best, Allred said, referring to the bonus for high-performing consultants. I have also experienced a lot of personal growth and amazing friendships I wouldn't have otherwise have.
Allred said she was excited about the company's new future under Millar's leadership and appreciates how ViVi helps women succeed.
It also is positioned to benefit charitable causes, such as the American Cancer Society.
Millar, a pediatric cancer survivor, partnered with Miracles for Kids, an organization with an office in Tustin that helps families of children battling life-threatening illnesses, and Children's Hospital Los Angeles (where she was treated when she was a girl). The goal is to raise money from jewelry sales at a holiday shopping boutique on Nov. 18 at a home in Corona del Mar. The event is open to the public.
Millar, who at age 9 was diagnosed with Stage 4 kidney cancer and was told she had an 8% chance of surviving, said with the fall and winter ViVi collection comes a new line of bracelets supporting the American Cancer Society.
I do believe that surviving cancer does drive me, Millar said. I came through that to do other things, and that's to help empower women.
Originally Published in LA Times