Dr. Monica Marcu Joins Zija Product Advisory Council
November 21, 2015
By Nicole Dunkley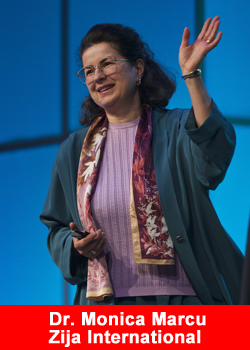 Zija International recently announced the addition of Dr. Monica G. Marcu to their Zija Product Advisory Council—the latest specialist to join.
Dr. Marcu holds a Ph.D. in pharmacology, Pharm.D. (Doctor of Pharmacy), a Nursing degree, and a Bachelor of Fine Arts degree. She is a highly respected researcher and clinical pharmacologist, and has cultivated a love of trees from an early age. This fascination led her to study plants, particularly medicinal and healing plants, and her study and research of Moringa oleifera is incorporated in her book Miracle Tree, a long-time favorite of Moringa enthusiasts and Zija Independent Distributors.
Dr. Marcu's background as an expert on the nutrient-rich Moringa is impressive. She has worked in clinical pharmacies and in biomedical research laboratories at the University of Ottawa, the National Institute of Health, and the National Cancer Institute.
The Zija Product Advisory Council is a team of experienced and expert professionals that help the company maintain the highest quality sourcing, validation, and delivery practices for Zija's high-caliber products.
As the company continues to grow at a rapid rate, Zija decided to create a team dedicated to this priority so we can continue to confidently ensure all of our customers and Distributors that we are providing only products that have been produced at first-rate farms and facilities.
The new Zija Product Advisory Council now consists of six individuals who are highly specialized in their fields and have years of experience; other members include Dr. Joshua Plant, Pierre Franchomme, Dr. Doug Nelson, Karen Jensen, and Dr. Daniel Pénoël.
ABOUT ZIJA INTERNATIONAL
Zija International, a privately held and privately funded business founded and led by Kenneth E. Brailsford, develops natural health, wellness, nutrition and fitness products. The company operates in more than 50 countries worldwide.
Zija has seen consistent growth every year since it was founded, and was recently named the Fastest-Growing Company in Utah by Utah Business Magazine. It has also been recognized on fastest-growing and top-revenue lists by Inc. Magazine, Direct Selling News, and Utah Valley Magazine, to name a few.
With corporate offices located in Lehi and more than 4 million sq. ft. of state-of-the-art warehouse, shipping and manufacturing facilities located in Utah, United States, Zija International employs more than 200 individuals and has the capacity to grow to more than two billion dollars in annual sales.