Jennifer Maret Moran – IDLife Top Earner Interview
November 18, 2015
By Team Business For Home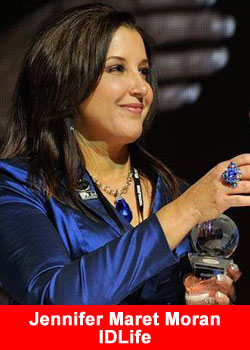 Jennifer Maret Moran, resides in Houston, Texas, USA and is the nr. 1 Top Eaner in IDLife.
IDLife stands for "Individually Designed Life." The company offers natural, high-quality nutritional supplements and dietary products.
After graduating from Texas Tech University in 1989 and spending 17 years trading hours for dollars in corporate America, primarily as a medical/pharmaceutical rep and district trainer in outside sales, she now enjoy "Living The Dream" as IDLife's #1 Top Income Earner.
Jennifer has been in the industry a little over 10 years and, by no means, she is an "overnight success" in network marketing.
Ted Nuyten had the honur to interview Jennifer:
Jennifer, how did you got into Network Marketing?
If you're familiar with the bestseller "Rich Dad, Poor Dad" by Robert Kiyosaki, I came from the "Poor Dad" side of the equation. My father was a Cardiologist who graduated from Georgetown Medical School, my mother had a degree in Journalism from University of Texas, my two half-sisters both had PhDs and my half-brother was an Attorney. I was told all my life to go to school, get a degree (or two or three!), get a good job and work hard. No one I knew was ever in network marketing and everything I'd ever heard about the industry was negative.
Back in 2005, I was working as a cardiovascular specialty rep for a startup biotech company, complete with stock options, a brand-new Lexus as a company car and a 6-figure income. Married with 3 kids (my youngest wasn't even 1 yet), the company stock options were my "golden ticket". I was hoping to cash out in 4 years and stay home with my kids.
Then one day, my phone rang. It was our Dallas biotech rep asking me if I was interested in a "business opportunity", to which I promptly replied, "I don't do 'business opportunities.'" I told her whatever potion, lotion, pill or home decor she was selling, that I'd be happy to buy some stuff from her or throw a party for her… but, I reminded her again, "I don't do 'business opportunities'."
Two weeks later, after being her biggest skeptic and having total "paralysis by analysis", I finally joined. I remember the two things she said to me that finally got me to enroll under her:
1) "Just do it as a fundraiser for your church" (which she knew I was passionate about) and
2) "You've done stupider things with $329 (the amount to join at the time), and I've watched you!"
Fast forward, just 12 months later, I was earning enough income to be able to walk away from my pharmaceutical career and stay home with my kids and, 8 years later, I was the #40 Top Income Earner driving a "free" Mercedes-Benz!
It was at that service-based company in the energy industry that I met and was mentored by IDLife's future Founder & CEO Logan Stout, who was their #2 Top Income Earner and my upline support at the time. It was on a company incentive trip in April of 2013 where I first heard rumors that Logan was planning on starting his own network marketing company. When my husband and I heard this, we looked at each other and said, "Of COURSE he is" because, to us, Logan, 12 years our junior, was "Wonder Boy."
Fast forward again to July of 2013. I was cleaning up our living room and turned on the TV for some noise. When the TV came on, the channel was set on Fox Business News and there was Logan, being interviewed in a segment titled, "Can You Be a Multi-Millionaire By The Age of 25?"
They were interviewing him about his book "Stout Advice", about all his success in direct sales and about him owning the Dallas Patriots for the past 18 years. I thought to myself, "Okay, Jennifer… This is like knowing Mark Zuckerberg PERSONALLY and he's about to go start Facebook and you haven't even called him!" I immediately picked up the phone and called him to get the scoop. I couldn't live the rest of my life wondering, "What if?"
What facinates you about the industry?
Getting involved in this industry has changed my life and my family's life forever in ways too numerous to count but here are just a few things that I think are HUGE:
LIFE BALANCE: People are always lacking in at least 1 of 4 key areas of their life… 1) TIME: They don't have enough time; 2) MONEY: They don't have enough money or are on a fixed income; 3) RELATIONSHIP: They can't get involved in family or social activities because they are working all the time; 4) HEALTH: They, or someone they know and care about, is overweight, has heart disease or other health issues. When one or more is lacking, life is out of balance… A good network marketing opportunity can provide ALL FOUR and get life back in balance!

A LEGACY vs. A LIVING: As Robert Kiyosaki often points out, 97% of the population works for money and works for people vs. having money and people working for them. They have zero leverage and spend their entire lives building someone else's dream. I was a top performer in pharmaceutical sales and made a great "living" but if I stepped off a curb in the Texas Medical Center and got hit by a train, my "paycheck" would stop. ZERO legacy. My family might get a little life insurance check (until it would run out, which I know firsthand that it does, having lost my both my parents before I was 22) but my pharmaceutical company would not continue to pay my family on all my hard work and for all my years of service. In network marketing, especially at IDLife, you build a willable, sellable, transferrable business. You OWN it!! You don't just get paid for what you DO, you get paid for what you START… It is legacy income vs. linear income!

IT'S INCOME INSURANCE: Often when I close a meeting, I will ask people to raise their hands if they have homeowners insurance (check), life insurance (check), health insurance (check), auto insurance (check), even pet insurance (there's always one!!)… Then I say, "Now raise your hand if you have INCOME insurance?" It's always an uncomfortable silence when no hands are raised. "So you have a Plan B for if your house floods, you get terminal cancer, you get into a wreck or even if your dog chokes on a bone… But NO ONE has a Plan B for the #1 thing that puts food on their table and a roof over their head??" And then I finish it with this statement: "Since you were 5 years old, your mother told you 'Don't put all your eggs in one basket'… Yet what do we do with our income?" They all respond: "One basket!" as they shake their heads in realization and look like they just discovered something amazing. It is such a strong moment. A good network marketing business is INCOME INSURANCE and most people don't really realize that.

IT'S THE BEST PERSONAL DEVELOPMENT COURSE YOU WILL EVER TAKE: This industry truly "lifted the lid" off my life and helped me and my entire family dream big again! Network Marketing, and the PEOPLE I've met and been mentored by in this industry, has taught me more about success, leadership, wealth, happiness, spirituality, service, charity, business and entrepreneurship than I could ever learn at Yale or Harvard. Period.

LIFE BECOMES AN ADVENTURE: I have been places, met people and experienced things I would have never had the opportunity to had I never gotten involved in network marketing. I have friends who are now like family to me all over the world and there are times I find myself crying tears of joy and thanking God for blessing me with "The IDLife"!
What is the key for your success?
The key(s) to my success are many BUT, if I had to pick one, all-encompassing one for the Network Marketing industry, I'd have to say that I have ALWAYS been fueled by the saying: "A rising tide raises ALL ships."
You have to selflessly serve others first in order to ultimately achieve success on a personal level in network marketing. As my mentor Logan Stout always says, "Once you've tasted significance, you won't care about success." Focusing on how I could be significant in the lives of others overall vs. just successful for myself has been the difference-maker.
Is personal development important for you?
I can honestly say I floundered in network marketing until I discovered personal development! It is VERY important to me. Since 97% of the population are employees or small business owners, very few people come into network marketing prepared to run their own huge business, be a leader, be self-motivated or be a success… You have to learn it, like any other industry. I also believe that when you stop learning and growing, you wither and die in this industry as a leader. You have to remain teachable, coachable and NEVER STOP LEARNING.
I credit SO many personal development tools for making me the success I am today! Books such as "Rich Dad, Poor Dad" by Robert Kiyosaki, "Secrets of the Millionaire Mind" by T. Harv Eker, "Beyond Talent" by John C. Maxwell, "Go Pro" by Eric Worre, "Stout Advice" by Logan Stout… Motivational speakers such as Jim Rohn, Jerry Clark, Tom "Big Al" Schreiter, Darren Hardy, John Addison, John C. Maxwell and Zig Ziglar… Bible studies by Beth Moore, Priscilla Shirer and Andy Stanley… All played an integral part in my success over the past 10 years I've been in network marketing.
How do you support your team?
IDLife is incredible in that we have a Global Pool Bonus where 2% of the company's worldwide profits are shared among everyone National Director and above. As a result, "my team" is ALL of IDLife… We are one, big IDLife family! However, we do support our "personal" team, Team LTD (Livin' The Dream), via a very active group/team page on Facebook, other forms of social media communication, conference calls, 3-way calls, webinars, home mixers and team parties!
I also know that I would NOT be the #1 Income Earner without my team so, as a result, when I do an event or I fly somewhere to work with a leader on my team, I always ship plenty of samples to them so they don't have to use their samples while I'm there. It is the least I can do to invest in them and to thank them for their leadership!
Why IDLife, what are the highlights?
1) Timing: IDLife is only 18 months old so we are below ground-floor, we are basement! In that short period of time, IDLife broke network marketing records in pre-launch and have had incredible organizations who are well known in the health and wellness industry partner with us, such as the American Heart Association and Whole Foods Market.
2) Proprietary Products: IDLife stands for Individually Designed Life because the CORE of our product line is our proprietary HIPAA-compliant, evidence-based online Health Assessment that was 17 years in-the-making and is powered by over 7,500 third-party, independent studies from peer-reviewed medical and nutritional journals.
The Assessment gives you what you need at the right time of day that you need it, blocks what you don't need and custom designs just for you a regimen of pharmaceutical-grade nutritional supplementation packaged in a convenient strip back so customized that it comes with your name stamped on each pack. We also have a line of products for Energy, Sleep, Weight Loss and Sports/Fitness Performance so clean that Whole Foods partnered with us to carry out products after 10 months of due diligence on our ingredients. IDLife also just launched a new Skin Care line backed by Nobel Prize-winning research.
3) Billionaire Investors and Experienced Leadership: I always say there is a reason NFL Legend Troy Aikman, celebrity trainer Jen Widerstrom and 3 billionaires: Darwin Deason, Mike Salim and Patrick McGee of the Perot family are all Investors and Part-Owners in the company.
In addition to the vision of IDLife taking nutritional supplementation from one-size-fits-all to customized, Investors also realize that Founder/CEO Logan Stout, with his background in owning very successful traditional companies, like the world-renowned Dallas Patriots, along with his track record of building two, huge, uber-successful MLM teams across two different, legacy companies (product-based and service-based) made him the perfect person to be "steering the ship" with IDLife!!
4) A COMPENSATION PLAN BUILT TO CREATE LEGACY INCOME AND LONGEVITY: IDLife, bar none, has THE best compensation plan in the industry… And, with 15 ways to get paid, I don't use the word "best" loosely!! Having been a top income earner for several years in both a product-based AND a service-based company, IDLife's Founder/CEO Logan Stout knew both the ins and outs of both his former companies, pored over the compensation plans and interviewed top earners of countless other companies, and consulted with the top network marketing compensation plan advisors in the country to put together a compensation plan that pays out like no other in the industry.
Some of the highlights are things like the ability to earn Free Product, Dynamic Compression in the 10-level Residual Plan, a Residual Match and a Volume Match Bonus and Global Pool where IDLife takes 2% of the company's profits each month and splits it up among the Associates. IDLife also has an incredible Car Bonus Program where you can use the money any way you see fit. You don't even HAVE to go buy a new car… You can just pay off the one you have or throw it towards credit card bills! Plus, when you do decide to buy a car, you can buy whatever car YOU want to drive… After all, we are "Individually Designed"!!
Contact details Jennifer Maret Moran
www.facebook.com/jennifermoran5